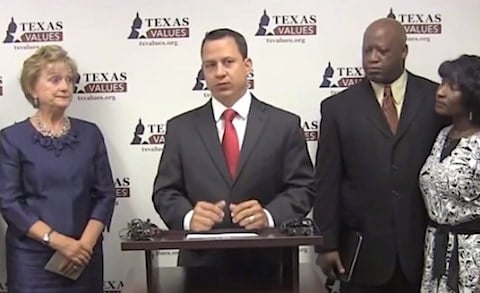 About 2,500 same-sex couples in Texas have obtained marriage licenses since the U.S. Supreme Court's ruling in Obergefell v. Hodges, according to state officials.
That accounts for roughly 5.7 percent of all marriage licenses issued statewide since June 26, but in Fort Worth, the figure is almost 9 percent. Because gender isn't listed on marriage licenses, it's impossible to say exactly how many have been issued to same-sex couples. But state officials base their estimates on whether applicants have traditional male or female names.
For that reason, one anti-LGBT hate group leader is discounting the figure altogether. From The Star-Telegram:
"We don't know for certain how many same-sex marriage licenses have been issued in Tarrant County or any Texas county since the U.S. Supreme Court banned Texas from enforcing our marriage laws," said Jonathan Saenz, president of Austin-based Texas Values.
"I think a lot of people would be interested in accurate statistical data on same-sex marriage, but I don't believe we have that option in Texas right now."
Saenz, of course, is best known for being ditched by his lesbian ex-wife, so it's not surprising that he's having a hard time coming to terms with marriage equality.
In any case, there appears to have been plenty of pent-up demand for same-sex marriage licenses in Texas, even though many couples married over the years in other states. UCLA's Williams Institute estimates there are more than 44,000 same-sex couples in Texas, based on Census data.
From The Star-Telegram:
"There are many same-sex couples who simply waited until it was legal to seek licenses," said Jim Riddlesperger, a political science professor at TCU. "As a result, there have been a number of folks who might have gotten married years ago had it been possible to do so who are taking advantage of their opportunity to gain legal recognition for their committed relationship.
"My guess is that the overall percentage will shrink over time from this initial data once the 'pent-up demand' has been satisfied."