BREAKING:1st gay couple since #KimDavis' return applies 4 marriage license; Davis hiding; Man "preaching" behind them pic.twitter.com/LLAT13ejFU

— Imperator Letha 🅐🌹 (@Letha_Hughes) September 14, 2015
While it's still unclear whether marriage licenses issued without the name or authority of the county clerk are valid, Carmen and Shannon Wampler-Collins received the first marriage license from Rowan County, Kentucky as Clerk Kim Davis hid in her office with the blinds shut.
Some pictures of Carmen & Shannon Wampler-Collins. They've applied for license once before & were denied #RowanCounty pic.twitter.com/fNNM1FxwQ9

— Toni Konz Tatman (@tkonz) September 14, 2015
After the fourth time, marriage license finally prints correctly for Carmen and Shannon Wampler-Collins #RowanCounty pic.twitter.com/FDef7uTsy8

— Toni Konz Tatman (@tkonz) September 14, 2015
BREAKING: Shannon & Carmen have a marriage license from #KimDavis' office! #LGBT #KYFairness

— Fairness Campaign (@FairnessCamp) September 14, 2015
Davis told reporters this morning that deputy clerks could issue the licenses but they would not bear her name or her authority: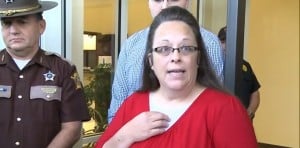 "I don't want to have this conflict, I don't want to be in the spotlight, and I certainly don't want to be a whipping post. I'm no hero, I'm just a person who has been transformed by the grace of God…Effective immediately, and until an access is provided by those with authority to provide it, any license issued by my office will not issued or authorized by my me. I want the whole world to know, no mistake about it, that my deputy clerks do not have the authority to issue a license whatsoever. If any of them feels that they must issue an unauthorized license to avoid being thrown in jail, I understand their tough choice and I will take no action against them. However,…Any unauthorized license that they will issue will not have my name, my title, or my authority on it, Instead, they will say that they are issued pursuant to a federal court order."
Groups of gay rights supporters crowded the office and chanted "Love Has Won" as the couple received the license.
Developing…
"Love has won" chants continue as a same-sex couple receives a marriage license in Rowan County #KimDavis pic.twitter.com/Bs7huoJj7A

— The Trail Blazer (@MSUTrailBlazer) September 14, 2015