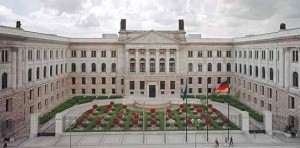 On Friday the Bundesrat, Germany's upper house of parliament, approved a resolution calling on lawmakers to pass legislation that would allow same-sex couples to marry and adopt children. The move puts further pressure on Chancellor Angela Merkel, who recently reaffirmed her opposition to same-sex marriage.
DW.com reports:
Winfried Kretschmann, the Green Party state premier of Baden-Württemberg, said that no person should be marginalized and that, as a Catholic, he felt comfortable with this opinion, even though the church wouldn't agree.
Speakers went on to point out that there were no findings to show that same-sex parents were harmful to a child's welfare. "Mere speculation" didn't justify a complete denial of adoption rights.
Thuringia's state premier Bodo Ramelow, a leader of the Left party, reminded the assembly that during the Nazi era people were "driven to their death" because of their sexual orientation.
The Local notes that the Christian Democratic Union (Merkel's party) dominates the country's lower house and is largely opposed to same-sex marriage.