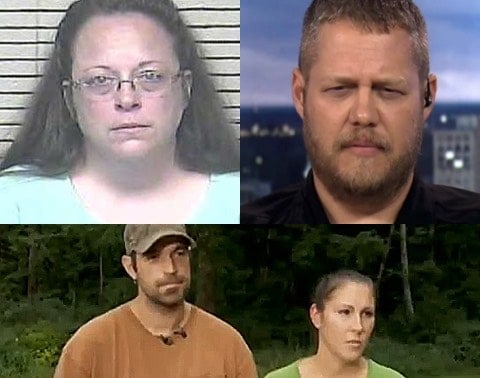 The Values Voter Summit, the annual meeting of conservatives sponsored by the hate group Family Research Council, kicked off today, and tonight its 'Evening Plenary Session' features an entire segment called 'Free to Believe'  devoted to the Christian martyrs who have stood up for the right to discriminate against gay people including Casey County, Kentucky Clerk Casey Davis, the not-so-lovely couple from Oregon whose bakery was recently ordered to pay $135,000 to a lesbian they refused to bake a cake for in 2013, and everyone's least favorite Kentucky Clerk  and new Republican Kim Davis, who will be receiving the 'Cost of Discipleship Award' from Oliver North.
There is a whole lot of hate to be taken in, so here's the live feed if you're hoping to use this Friday night to test your gag reflex in the worst way possible.
The session starts at 7:15 pm ET. Order of appearance here.
https://www.youtube.com/watch?v=NdO-3xHL4mU