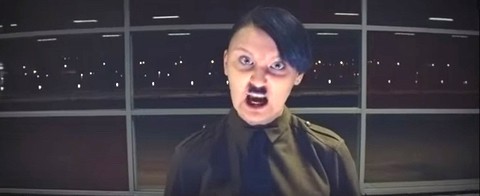 In a new PSA from Poland tackling anti-gay hate speech, a teenage woman is shown morphing into Adolf Hitler as she spews homophobic slurs.
In the video, the young woman chats casually with her friends before seeing two men come her way, whom she assumes are a gay couple. She then launches into an anti-gay rant that brings about her metamorphosis:
"Did you see them? Queers or what? They can do whatever they want at home, but walking together like that is too much! I see faggots everywhere! I want to puke when I look at them!"
The video was prompted by an "alarming" report showing the extent of hate speech among young Poles, according to the group behind it, the Stefan Batory Foundation, a pro-democracy nongovernmental organization. […]
The foundation's 2014 study suggested that nearly two-thirds of young Poles had come into contact with hate speech online, with roughly the same amount encountering verbal hate speech from their peers or on the street.
The study was conducted for the foundation by the CBOS research center and based on sample groups of 653 Poles aged 16 to 18, and 1007 adults.
The minorities most frequently targeted were non-heterosexuals, black people, the Romani, Muslims and Ukrainians, the report said.
As for why the group decided to focus on anti-gay hate speech, project coordinator Agata Szypulska said, "We focused on homophobia because we saw those numbers and we found them very alarming." As for the allusion to Hitler, Szypulska added, "In the Polish context, it's pretty obvious that Hitler harassed and murdered people because of ethnicity and because of things you cannot change."
Watch the video below: