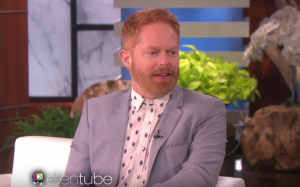 Jesse Tyler Ferguson stopped by Ellen the other day and shared the story behind finding the perfect gift for his husband Justin Mikita's recent birthday.
"I really didn't know what to get him for his 30th birthday," said Ferguson. "He has enough. I mean look at me he has this."
Mikita had been eyeing Kanye West's new Yeezy Boost shoes so the Modern Family star decided to see if he could track down a pair of the expensive sneakers.
Hear the story of how Kim and Kourtney Kardashian were pulled into the hunt in the video below: