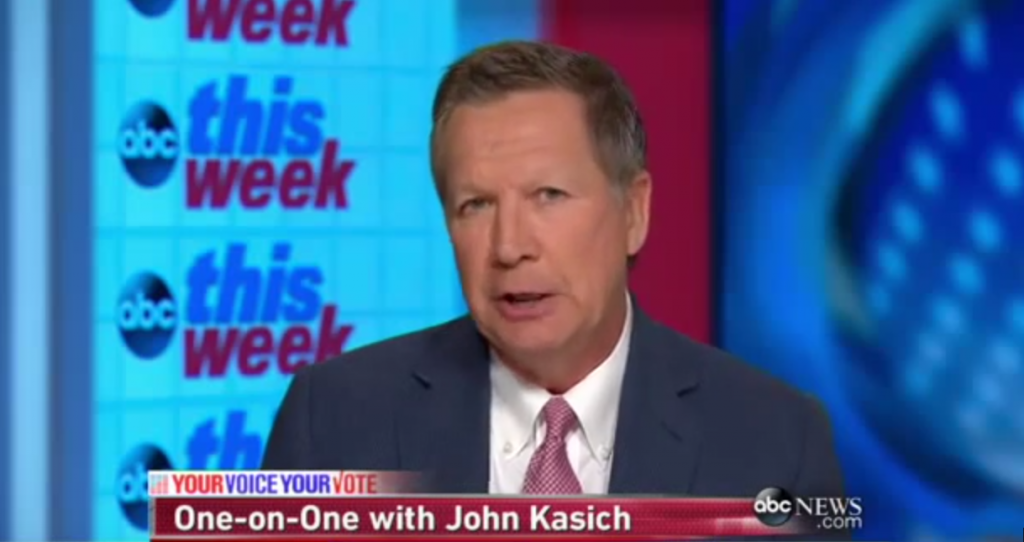 John Kasich and Rick Santorum have both weighed in on the Kim Davis drama and their responses offer a revealing look at the GOP's differing approaches to LGBT issues this election season.
Speaking to George Stephanopoulos on ABC's This Week, Kasich said Davis should follow the law and do her job:
"The court has spoken, the court has ruled as everyone knows. I believe in traditional marriage but the court has ruled…When we see these kind of battles going on I get a little bit afraid that it turns people off to the idea of faith in God, what it means to be a Christian. For me, it's given me a solid foundation to deal with the strong winds in life, to be a better person, a better guy. Now I respect the fact that the lady doesn't agree, but she's also a government employee. She's not running a church. I wouldn't force this on a church but in terms of her responsibility I think she has to comply. I don't like the fact that she's sitting in a jail—that's absurd as well—but I think she should follow the law."
Rick Santorum, meanwhile, had a very different perspective on Davis, telling CNN he believes the Kentucky clerk is a hero: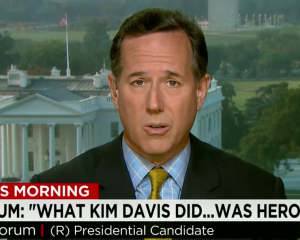 I would agree that what Kim Davis did in my opinion was heroic and she suffered the consequences for it. I think putting her in jail was rediculous and an extreme position. But you know what? That's sometimes what it takes – for people to stand up and conduct civil disobedience because the law is unjust and suffer the consequences of that. So I commend her for actually standing up for her principles.
https://www.youtube.com/watch?v=8x217Z9BE44
A recent Monmouth poll put Kasich at 2% and Santorum at 0%.