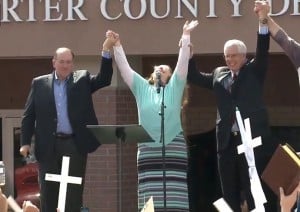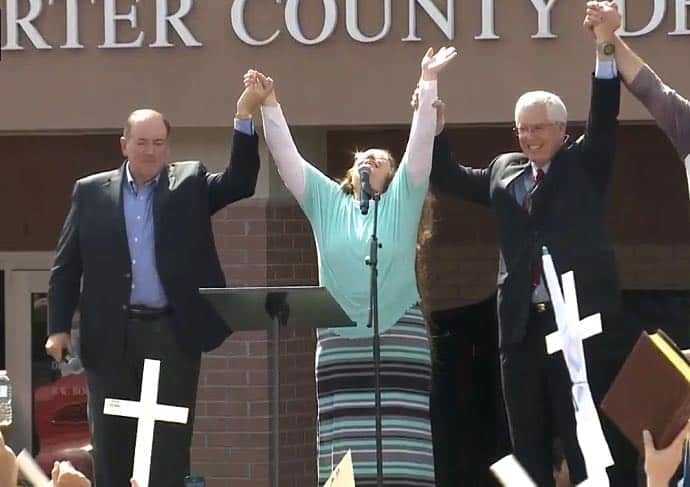 Kim Davis isn't finished trying to squirm her way out of having to issue marriage licenses to same-sex couples.
BuzzFeed's Chris Geidner reports Davis's lawyers asked a federal appeals court on Friday to effectively end the requirement that all couples be allowed to marry in the county.
The AP adds:
Attorneys for Kim Davis, who objects to gay marriage on religious grounds, argued in their motion to the Sixth Circuit U.S. Court of Appeals that all the same-sex couples who sued Davis for a license received one from her deputies while she was in jail. Therefore, they said, her office should not be required to issue them to any more couples once she returns to work.
U.S. District Court Judge David Bunning wrote that his mandate to issue licenses applied to all couples, not only those who filed suit. But Davis' lawyers allege that order was issued improperly, and again have asked for a delay.
"I hate to use a religious metaphor, given the circumstances," said Sam Marcosson, a constitutional law professor at the University of Louisville, "but this strikes me as a Hail Mary pass."
In related news, Judge David Bunning has denied Davis's request for injunction against Gov. Steve Beshear:
Judge denies #KimDavis's motion for injunction against Gov pending appeal, says can go to state court w/state claims http://t.co/Mr1GcYZc6a

— Equality Case Files (@EQCF) September 12, 2015
Davis's lawyer Mat Staver with the Liberty Counsel appeared on Megyn Kelly's Fox News program yesterday to discuss what Davis will do on Monday when she returns to work.
https://www.youtube.com/watch?v=2mSMC20Kj3w