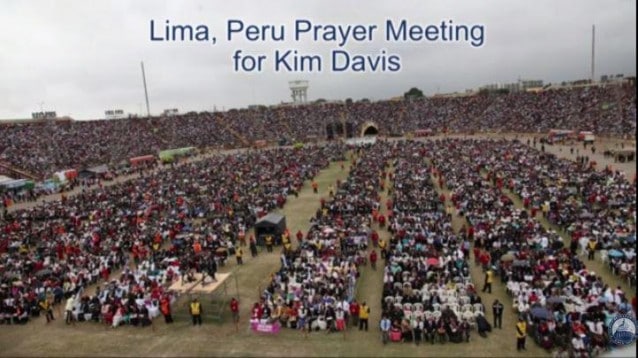 Claims made by Kim Davis' lawyer Mat Staver that over 100,000 people in Peru held a prayer rally in support of anti-gay county clerk Kim Davis have been proven false.
Staver shared the above image at this year's Values Voter Summit at which Kim Davis was honored by the Family Research Council with a "Cost of Discipleship Award." As Think Progress reports, Staver seems to have gotten the image from his Liberty Counsel cohort Matt Barber, who first tweeted a photo of the alleged rally on Thursday, writing, "Christians in Peru had a prayer rally for #KimDavis & American Christians. over 100K showed up. Amazing! #ImWithKim."
Barber then re-tweeted the image again on Sunday, claiming Peruvian Congressman Julio Rosas organized the event: "Cong. @juliorosas1 called a prayer rally for #KimDavis & U.S. Christians in Peru. 100K showed up. Amazing! #VVS15." Meanwhile, Rosas' social media made no mention of putting on such an event. He did however, post one tweet in support of Davis and Staver.
Felicitaciones a mi gran amigo Dr.Staver, por su defensa a la jueza cristiana que no cedió ante la presión. pic.twitter.com/OOXubRvmCO

— Julio Rosas (@juliorosas1) September 9, 2015
After some digging, it turned out that the photo shared by both Staver and Barber was apparently from a 2014 prayer rally known as "Jesús Te Ama Y Te Cambia" ("Jesus Loves You And Changes You)." Via Think Progress:
Internet sleuths, including Twitter user @DCHomos, quickly identified the stadium as the Estadio Universidad Nacional Mayor San Marcos at the National University of San Marcos. Then, a number of videos seemed to quickly confirm that the image shared by Staver and Barber was from the 2014 convention organized by the pentecostal Movimiento Misionero Mundial (Worldwide Missionary Movement).
Below, watch a video of the event from 2014 that Staver and Barber re-appropriated as a rally for Kim Davis.