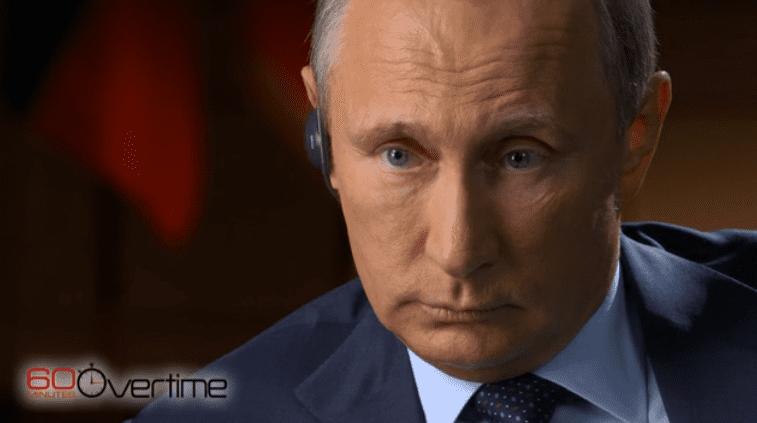 Russian President Vladimir Putin sat down with Charlie Rose on 60 Minutes to discuss a wide variety of topics, among them his stance on gay rights.
Asked if he applauded the Supreme Court's ruling on same-sex marriage, Putin pivoted away from the question of marriage towards gay adoption (which is illegal in Russia) and Russia's ban on so-called "gay propaganda." Said Putin, "The problem of sexual minorities in Russia had been deliberately exaggerated from the outside for political reasons, I believe, without any good basis."
Trying to make his stance on LGBT issues seem less radical and right-wing, Putin remarked that while homosexuality is illegal in 4 U.S. states (as CBS News points out, this isn't exactly true) he condemns such persecution:
"I would definitely condemn that. I believe there should not be any criminal prosecution or any other prosecution or infringement of peoples' rights on the basis of their race, ethnicity religious or sexual orientation. We don't have that."
Putin went on to paint a rosy picture of the state of LGBT rights in Russia, one that doesn't mesh with facts:
"We have no persecution [of LGBT people] at all. People of non-traditional sexual orientation work, they live in peace, they get promoted, they get state awards for their achievements in science and arts or other areas. I personally have awarded them medals."
He added, "In Russia there are equal rights for everyone, including for people of nontraditional sexual orientation as well. "
As for Russia's anti-gay propaganda law, Putin attempted to defend it by tackling whether or not the anti-gay act is lawful and democratic rather than whether it is heinous and harmful:
"I don't see anything un-democratic in this legal act. I believe we should leave kids in peace. We should give them a chance to grow, help them to realize who they are and decide for themselves. Do they consider themselves a man or a woman? A female? A male? Do they want to live in a normal, natural marriage or a non-traditional one? That's the only thing I wanted to talk about. I don't see here any infringement on the rights of gay people."
Watch the interview below:
Get Towleroad Headlines Daily.
News daily from one of the most trusted, independent, lgbtq owned and operated media outlets. Covering news, entertainment, science, media, art and more for almost 17 years.