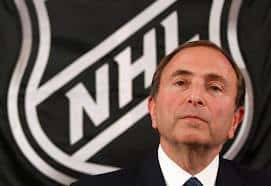 An anonymous National Hockey League survey conducted by USA TODAY yielded encouraging results for the acceptance of a future openly gay player.
Thirty-five NHL players were asked whether they would be accepting of an openly gay teammate, and 34 (97.1%) said they would be.
"I'm not surprised by that," said Calgary Flames president Brian Burke. "I'm disappointed by the one player. I don't think our players have an issue with gay players. I think the first player to come out is going to find an unbelievably welcome reception. I think my generation has a bigger problem than their generation when it comes views on the gay community."
In 2013, the NHL partnered with the anti-homophobia You Can Play Project, with NHL commissioner Gary Bettman (pictured) declaring "the official policy of the NHL is one of inclusion on the ice, in our locker rooms and in the stands."
USA TODAY adds:
Burke's son, Patrick, who works in the NHL Office of Player Safety, was a co-founder of [You Can Play Project]. Brian Burke is on the organization's advisory board.  Both became involved in the organization as a tribute to Brian's late son, Brendan, who came out as gay in 2009 when he was manager of the Miami (Ohio) men's hockey team. He was killed in a car accident in 2010.
"You Can Play has helped immensely in this area," Brian Burke said. "When we shot the first set of You Can Play (promotional) videos, guys were stopping me at rinks and saying, "Why didn't you ask me?" Guys were mad. Guys were insulted that we didn't ask them. That's when I thought, 'Wow, we are farther ahead than I thought."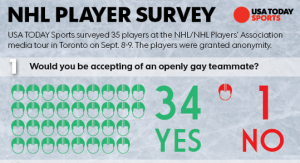 More on the survey here.