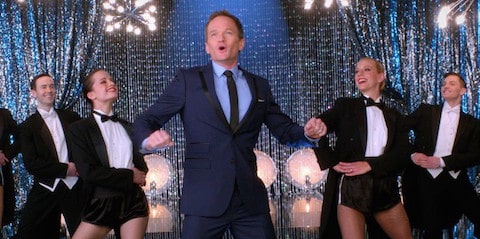 Check out our weekly guide to make sure you're catching the big premieres, crucial episodes and the stuff you won't admit you watch when no one's looking.
— Can we get a volunteer? One of the last time's we saw Neil Patrick Harris on TV, he was playing a maniacal magician on American Horror Story: Freak Show. For his next trick, he'll be hosting the latest bid to resurrect the variety show format, Best Time Ever, Tuesday at 10 p.m. Eastern on NBC. Let's hope it goes better than the last time he attempted to saw a girl in half.
See more picks for TV this week, below.
https://www.youtube.com/watch?v=kkgG1bXuk40
— Break out your finest sequined fringe, because the 21st season of Dancing With the Stars debuts tonight. This season's cast boasts a handful of delightful divas like Chaka Khan, Real Housewives of Atlanta alum Kim Zolciak-Biermann and Tamar Braxton, as well as a few infamous faces like Gary Busey and Paula Deen. Joining them in tonight's two-hour premiere is Alek Skarlatos, the National Guardsman who assisted taking down a gunman on a European train last month. The season twirls, spins and kicks off tonight at 8 p.m. Eastern on ABC.
https://www.youtube.com/watch?v=yNQEH8kngig
— It's a big night for dance fans. If you prefer your dancers less of the "star" variety, it's time to crown a new champion on So You Think You Can Dance tonight at 8 p.m. Eastern on Fox. The two-hour finale won't be completely devoid of stars, as Jenna Dewan-Tatum will hit the floor for a special performance.
https://www.youtube.com/watch?v=_uwanee-lS4
— The Mindy Project joins the ranks of beloved-but-canceled series to find a second life on streaming services. The quirky comedy lands on Hulu Tuesday.
https://www.youtube.com/watch?v=ltKjQOWewHc
— Openly-gay YouTube superstar Tyler Oakley joins web comedian Grace Helbig as co-hosts of The 5th Annual Streamy Awards, Thursday at 10 p.m. on VH1. It's the first time the awards will be broadcast on television, and the event will feature performances from A Great Big World, Hailee Steinfeld and Sir Mix-a-Lot.
What are you watching this week on TV?