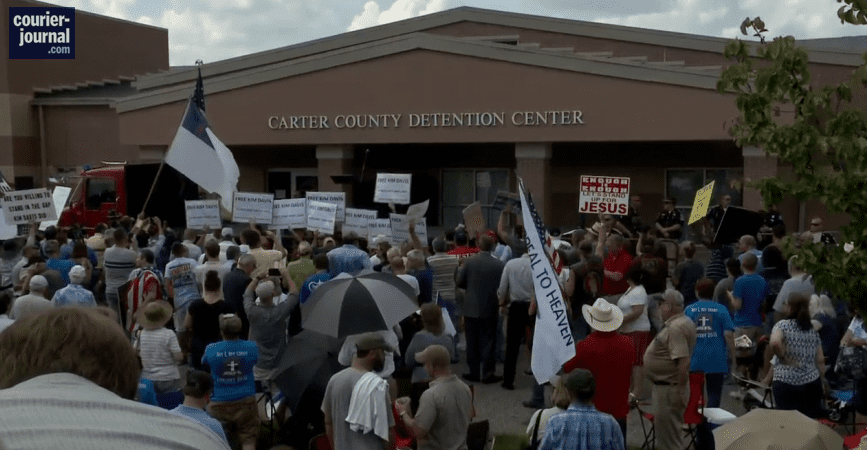 A rally in support of anti-gay Kentucky clerk Kim Davis is already underway outside the Carter County Detention center where Davis has been held since she was jailed for contempt. However, as we reported earlier, federal judge David Bunning ordered today that Davis be released.
At 2:30 PM local time, a press conference will begin featuring anti-gay activists such as Republican presidential hopeful and former Arkansas Governor Mike Huckabee, FRC's Tony Perkins, and Davis' lawyer, Mat Staver, of the Liberty Counsel, among others.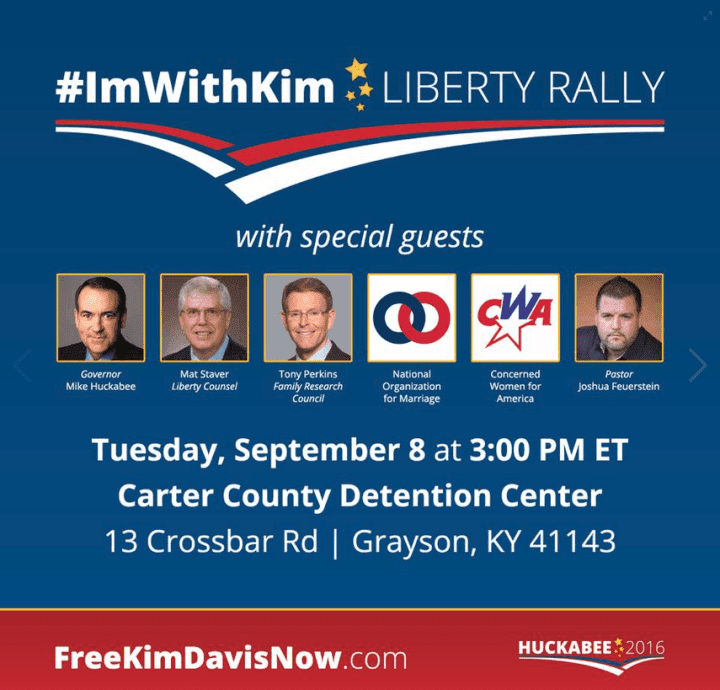 The New York Times reports on the assembled throng:
Scores of people gathered outside the jail hours before Mr. Huckabee's speech was scheduled to begin. Many people sat in lawn chairs they brought from their homes, while a man used a megaphone to urge people to repent. Streets were crowded as traffic slowed, and one entrepreneur offered parking spaces for $20 each.
On a street near the squat jail, demonstrators lined up along the roadway, where a sign leaned against a truck and read, "Judges Don't Make Laws And Are Not Above The Law."
"This is not a political campaign, and I don't want it to be and neither would Kim," a lawyer for Ms. Davis, Mathew D. Staver, said of the rally. "This is an event to honor God. It's an event to stand with Kim and ask for Kim to be free."
Watch a live stream of the rally, below: