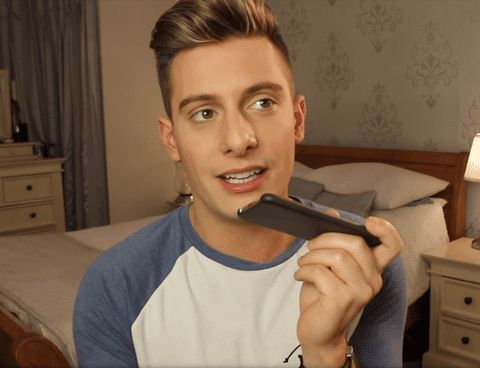 Gay Irish vlogger Riyadh K has posted a new YouTube video in which he calls his childhood bully to "find out why he did what he did."
In the video, Riyadh shares that he was frequently made fun of in school and called "faggot", "poof", and "queer" because of the way he talked and dressed. As a result, school was a nightmare for him. "I hated every minute of it," he says. As a way of making peace with the past, he decided to call his childhood bully, not to attack him, but to understand more about what motivated his behavior:
"I thought I would be a guinea pig,to show that after time passes, your bullies end up being just normal people. They're not evil, it's not some scar that should remain there forever. I want to find out why he did what he did."
After obtaining his bully's number from a friend of a friend and texting him to let him know that he would be calling him (all proper etiquette was observed–including augmenting the bully's voice in the video), Riyadh got the chance to confront him. The prospect of which even made him tremble.
Riyadh asked his bully, "Did you know you were causing me to feel that way?" To which the former bully responded,
"I don't think we intentionally made a point of slagging you. I don't think there was ever a conscious thing. I'm really sorry, I obviously didn't know that was happening in secondary school, and feel kind of bad about it now for sure."
Riyadh underscored why mocking, teasing or bullying kids because of their perceived sexuality can be so damaging for LGBT youth as they struggle to understand and come to terms with their identity:
"It was laughing about something that was so central to who I was and who I was becoming. I stayed in the closet for four years beyond when I realised – because I was afraid of reactions from you, the boys and a few others."
Riyadh's bully said that if Riyadh had approached him personally about the bullying he thinks he would have stopped making fun of him. He also was unaware how afraid Riyadh was of him in school and apologized for instilling such fear.
After the conversation ended, Riyahd said, "I don't think that could have gone better than it did. He genuinely was sorry, and I don't think he even realized the effect that it had on me, and still has on me now. It's very cathartic."
Watch the video below: