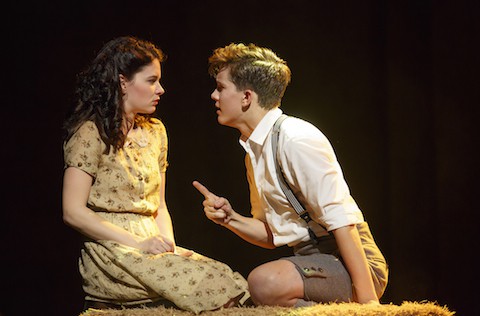 There is an unmistakable electricity to fumbling upon sex for the first time, one that Spring Awakening, Steven Sater and Duncan Sheik's acclaimed 2007 musical, captures in its deeply felt songs of teenage tumult, angst, and most especially, yearning. In the new Deaf West Theatre production that opened on Broadway last night at the Brooks Atkinston Theatre, all of this is expressed not only in the songwriting duo's propulsive, often haunting score, but in the demonstrative gestures of American Sign Language, which becomes another means for the young characters to make themselves feel less misunderstood.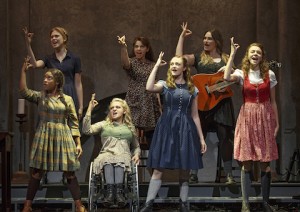 This is the universal struggle of every teenager, and these kids can certainly use another tool in their arsenal — as they're facing down the harsh, prudish strictures of 19th-century Germany (the musical is based on an 1891 play by Frank Wedekind). Every moment of the production created by Deaf West, an L.A.-based company last seen on Broadway with 2003's Big River, is accessible to both hearing and non-hearing viewers alike, with some performers both signing and speaking, and some deaf actors signing their parts while others unobtrusively give them voice and occasionally become part of the action.
ASL becomes a sort of choreography of its own, as actors use their hands and arms to express emotion as much as to convey meaning. There is a sort of urgency and rawness of expression to sign language that parallels the restlessness of being young, inexperienced and, well, horny. In this way, and in its outward, silent illustration of inner turmoil, sign language adds another, quite vivid dimension to the story. There are also playful moments when more suggestive gestures are employed with a blushing wink.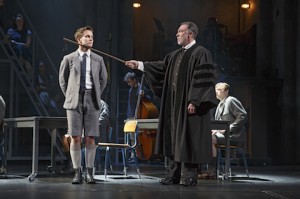 Yet, in a tale about the breakdown of communication between young people and the adults and institutions that serve and constrict them, there is perhaps more potential for a sign language interpretation than is mined in director Michael Arden's production. In one arresting classroom scene early on, ne'er-do-well Moritz (Daniel N. Durant) is called upon for an out-loud Latin recitation, which he delivers in a breathless, near-absent squeak, and is quickly and severely reprimanded for his mispronunciation. It is one of the only moments that a performer's very real struggle to be heard becomes a visceral part of the show.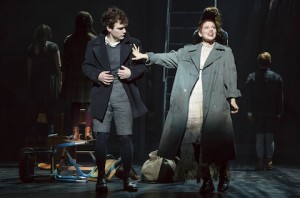 The musical's plot, an expressionist collage that includes a primary romance, a destructive soul or two, and a lot of longing matched by suffering, is not an easy one to tell, and those unfamiliar with it may find this production's clumsy handling of its sharp turns jarring rather than emotionally dizzying. Sater and Sheik's evocative score is rather more atmospheric than plot-driven, a quality mostly unmatched by the production's loose staging, steely grey design, and plentiful, cool lighting.
The company, both speaking and non, navigate their roles with finesse and feeling. As firecracker outcast Ilse, Krysta Rodriguez is a second-act stand-out, and Sandra Mae Frank is particularly affecting as a silent Wendla. It's individual performances like these and breakthrough moments that marry signing and storytelling that make for emotional impact, one that's felt in fits and starts rather than as major payoff.
Recent theatre features…
16 Big Shows Coming to Broadway This Fall: A Cheat Sheet
'The Legend of Georgia McBride' Teaches Intro to Drag Off Broadway: REVIEW
Hip-Hop Juggernaut 'Hamilton' Opens on Broadway: REVIEW
'The Absolute Brightness of Leonard Pelkey,' By Trevor Project Co-founder James Lecesne Opens Off Broadway: REVIEW
Looking for Love in a Straight-Girl World, 'Significant Other' Opens Off Broadway: REVIEW
Follow Naveen Kumar on Twitter: @Mr_NaveenKumar (photos: joan marcus)