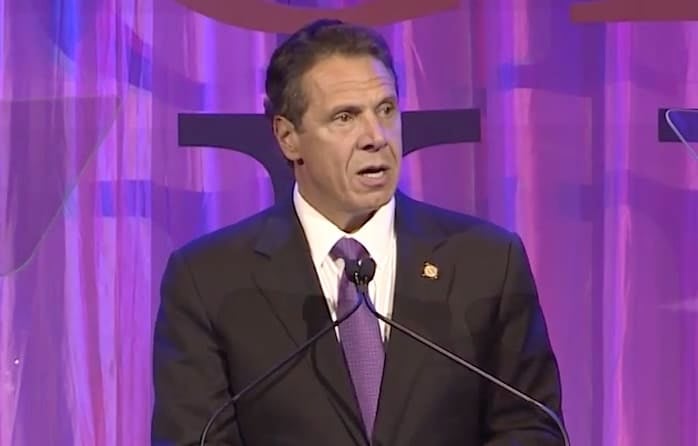 New York Governor Andrew Cuomo says he'll use executive action to protect New Yorkers from harassment and discrimination on the basis of gender identity, transgender status, and gender dysphoria in housing, employment, credit, education, and public accommodations. Cuomo made the announcement at a dinner for the Empire State Pride Agenda in New York City.
It comes after several failed attempts to pass protections based on gender identity (GENDA) in the New York Senate. The State Assembly passed GENDA for the eighth time on June 2nd in a bipartisan 88-45 vote.
The NYT reports:
The Cuomo administration said the plan would be comprehensive, covering all New Yorkers, not just state workers, and would include so-called public accommodation, a broad legal catchall that includes such places as ice cream parlors, hospitals and golf courses.
The executive action signifies an apparent tilt to the left for Mr. Cuomo, a centrist Democrat sometimes faulted within his own party for working too closely with Republicans. And it serves as another example of the governor's wielding executive power to tackle politically contentious issues, such as ordering the creation of a state wage board to raise the minimum wage for fast-food workers and empowering the state attorney general, Eric T. Schneiderman, as a special prosecutor in police-related killings.
Said Nathan Schaefer, Executive Director of the Empire State Pride Agenda:
"After years of tireless advocacy, we've won a tremendous victory for transgender civil rights with Governor Cuomo's announcement tonight. Thanks to the hard work of the Pride Agenda, our coalition partners, and countless transgender leaders, we have achieved this milestone for transgender civil rights. We look forward to working with the Administration to quickly implement these regulations so transgender New Yorkers are protected from discrimination–a basic civil right that is long overdue. We also recognize and express deep appreciation and gratitude to Senator Daniel Squadron and Assembly Member Richard Gottfried for their longstanding leadership championing of GENDA in the state legislature."
Watch Cuomo's speech to ESPA: