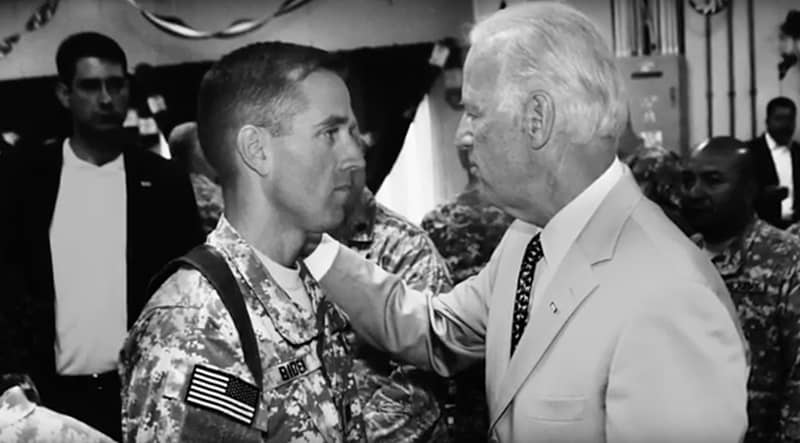 MIXNER's 2016 ELECTION CENTRAL —
There are times in American politics that require people of good will in both parties to speak out.
Increasingly, that is a rare phenomenon. Candidates love it when their opponents (or potential opponents) are put on the defensive. After all, politics is a tough game and if you are not ready to take the 'hits' then get out of the game. This week there was an attack directed at Vice President Biden in an attempt to discourage him from what could be a knock-down, prolonged and tough primary. Joe knows the game well and certainly would not shy away from a good political fight if he decides to enter the race.
However, this attack crossed the line by any definition of decency.
All candidates running for President should have immediately spoken out against the obscene attack. Their silence speaks volumes about this election season.
This column is not going to make that mistake.
Edward-Isaac Dovere this week wrote for Politico that Biden had deliberately leaked that his son Beau's 'last wish' was for his father to run for President. The article bluntly stated that in his moment of intense grief over his son's death that Joe coldly calculated how to release that information to kick off his presidential campaign. It doesn't get any more filthy or offensive in politics than that article. The journalist either was a willing participant in an effort to discourage Biden in the week leading up to his decision or he was motivated to fabricate a story that would get him more 'column inches'. Either one is amoral and the article is a total blatant lie that should be called that by all the candidates running in the Democratic Primary.
It is no coincidence that it was published this week. Someone wanted to make sure Biden knew there would be 'no limits' in this campaign.
Anyone who has known Biden knows of his intense love for his family. There is no question that the death of his first wife and daughter left him devastated. Every day he commuted from Wilmington, Delaware to the Senate so he could be by the side of his two critically injured sons. There is no better example of a father in America. This year his pride and joy, his son, died of brain cancer. The grief in the family was real, hard to watch, and heartbreaking. Did he talk to others about Beau's death? Did he mention his last conversations with his son?
You bet he did.
Anyone who has suffered great loss knows that one of the ways to process grief is to share with others the last days and last conversations. Joe is a talker. My guess is the best way he processes the unthinkable is to reach out to family and friends. Having to share one's grief with the public is hard. However, anyone who saw Joe's face during his son's funeral and believes that he would take time in that moment to use it for politics is one cold-hearted mean son of a bitch.
In addition, the journalist claims Joe manipulated his wife, Dr. Jill Biden, through this horrible moment to support the race. Really, Mr. Edward-Isaac Dovere, really? The last person on earth who could be manipulated is Dr. Biden.
Joe Biden never ever would use his son's death for political gain. Nor would he expect people to vote for him because of Beau's death. He is a man of great integrity, dignity and love. Joe is not afraid to stand on the issues and fight the good fight if he enters the race.
It is not clear who planted this story. What is clear is that both Ms. Clinton and Mr. Sanders should loudly be condemning this story as the kind of journalism that has no business in politics. The article was sleazy, dishonest, and disgusting. Anyone associated with it should be ashamed.
No one should have the death of a son used against them politically but especially Joe who has shown the entire country a profile in courage.
This is part of a series of columns about the upcoming 2016 election. The opinions expressed are those of the author.