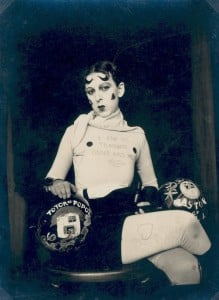 This Thursday evening, New York's Merkin Hall will see the premiere of a short film that pays homage to the lesbian French artist, writer, and heroic anti-Nazi activist Claude Cahun. Two young queer artists, Margaret Singer and Max Freeman, conceived the film to accompany "Zoetrope," a composition by Charlie Piper that will be performed live on Thursday by the contemporary music ensemble Alarm Will Sound as part of this year's SONiC – Sounds of a New Century Festival.
I've known Max and Margaret for years, and I love both their work and the vibrant, queer community they've formed around it. The two met in Boston more than a decade ago, when Max was a graduate student in literature and Margaret was working as a freelance photographer. They were both Mormon at the time; after briefly dating ("We went steady, we made snow angels," Max says of their chaste outings), they came out to each other and left the church.
What was the end of a heterosexual romance marked the beginning of a much more interesting partnership. The two moved to Brooklyn, where they live and work together, running a photography and film studio. They both have romantic relationships, but their friendship is the fundamental, organizing fact of their lives. Their life together doesn't conform to any of the usual shapes for long-term relationships; instead, it's an act of constant, resilient creativity.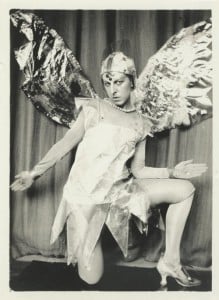 A similarly innovative, queer understanding of artistic and life partnership is part of what drew them to Claude Cahun. When a friend showed her Cahun's images, Margaret was immediately caught by work that she calls "serious, strange," unlike anything she had seen before and "way ahead of its time." "She's interested in where the boundaries of the human are," Margaret told me over the phone this week, "the boundaries of what it means to be sane, the boundaries of gender—and in a much more sophisticated way than her contemporaries."
As they began to research her life and work, Margaret and Max became fascinated by the collaborative nature of Cahun's approach to both art and life. Born in 1894 as Lucy Schwob, Cahun met her lifelong partner, Suzanne Malherbe, when the two were young women living in Nantes. In 1917, when they were in their twenties, Cahun and Malherbe—who would later take the name Marcel Moore—became stepsisters after Cahun's divorced father married Malherbe's widowed mother.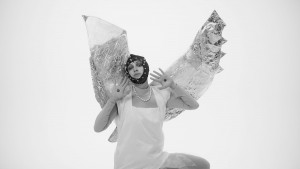 The two lovers moved to Paris in 1920, where their status as siblings allowed them to live a remarkably open life together. In 1937 they moved to the island of Jersey, which fell into German hands in 1940. Cahun, who was Jewish, and Malherbe carried out an extraordinarily brave propaganda campaign against the Nazis for four years. They made and distributed anti-Nazi pamphlets, often dressing up to attend German military events, where they stuffed them into soldiers' pockets. They were arrested in 1944 and sentenced to death; though the sentences weren't carried out, Cahun's health never recovered from the year she spent in Nazi custody. She died in 1954; Malherbe would live until 1972.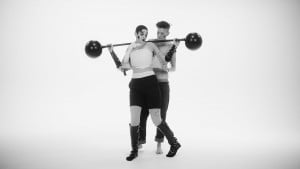 As an artist and writer, Cahun was often associated with the surrealists, but Max says that her work differs from theirs in important respects. "The surrealists were really interested in women as muses, as objects of desire. They were trying to rethink the language of love and desire in a psychoanalytic light."
"But women in surrealist work don't seem to have much autonomy," he went on. "Cahun's images participate in the same kind of logic that a lot of the surrealists are working with. But she's gender bending in a way that's not merely drag—'I am a woman in male clothing'—but that confuses and blurs gender lines altogether."
Cahun's most famous images are inventive, carefully staged self-portraits. In many of them, Cahun embodies heavily charged cultural or mythological figures—a bodybuilder, a witch, an angel, a devil. "She threw together her own outfits, she used whatever she had," Margaret says. "There's nothing professional or glossy about the images in any way." In their film, Max and Margaret recreate several of these images, with Margaret—who bears an uncanny resemblance to Cahun—taking the central role.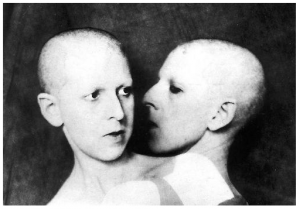 For a long time, Cahun was considered the primary artist behind these portraits. But Max and Margaret follow more recent scholarship of Cahun's work in seeing it as deeply collaborative. The portraits of Cahun were shot by Malherbe, whose shadow can be seen in some of the photographs. And they first appeared in collages that Malherbe assembled to illustrate Cahun's writings.
In Max and Margaret's film, this collaborator figure is portrayed by the model and artist Casey Legler, the first woman to sign as a male Ford model. In a dramatic sequence, Legler is shot from above as she wrestles huge, cut up images of Margaret into a collage. These images dramatize "the process of working in collaboration, which is both constructive and antagonistic," Margaret says. They also embody "the anxiety of influence, of tackling the work of an artist you admire and reinterpreting it."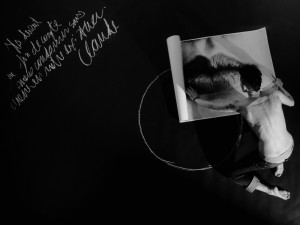 They stress that the making of the film, too, was "a real collaboration among artists." This began with Charlie Piper's composition, from which they took both their title and the film's central visual conceit, and whose sense of "wonder and anxiety" made them feel it was an ideal accompaniment for a meditation on Cahun and her work. Alan Pierson, the conductor of Alarm Will Sound, appears in the film. Casey Legler was involved in the conception of the project, and brought on board much of the creative team.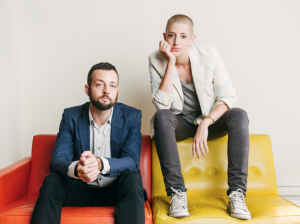 Max and Margaret continue to be fascinated by the brilliant queer artists they bring to life in "Zoetrope," and they're currently writing a feature-length script about Cahun's life and work. "Collaborative art-making interests us, as it interested them," Max and Margaret say of Cahun and Malherbe. "And like them, we've also decided to live and work together in a queer family."
The premiere of "Zoetrope" will take place at 8:00pm on Thursday, October 22nd at New York City's Merkin Hall. Tickets can be purchased online or at the door.
Connect with Garth Greenwell on Facebook and Twitter.
Get Towleroad Headlines Daily.
News daily from one of the most trusted, independent, lgbtq owned and operated media outlets. Covering news, entertainment, science, media, art and more for almost 17 years.