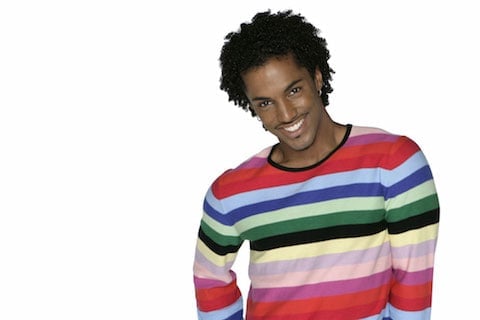 Even with surges in LGBT representation on television over the last few years, including series like Looking, Glee, The New Normal, and Modern Family, portrayals of LGBT people of color have remained scarce. It makes Logo's iconic series Noah's Arc even more pioneering. Its star, openly-gay actor Darryl Stephens, not only anchored the show as the titular Noah Nicholson, but he's gone on to play several other LGBT characters and write about his experiences.
"It's hard for me to really grasp the impact of Noah's Arc on TV's landscape," Stephens said in an interview last year. "I know I've heard from and continue to hear from hundreds if not thousands of people who loved the characters on that show. To me, it was a fun little soap opera. To some, it was television's first affirmation of black gay love–ever. I'm not sure how much the show managed to change television depictions of black gay men or the weight of its impact with respect to the TV shows that followed it, but I know that the people who enjoyed it have been incredibly loyal and vocal about how much it meant to them."
Noah's Arc is looked at by some as a gay, black version of Sex and the City, chronicling the adventures and love lives of a group of friends. Similar to SATC, the series also led to a film. While beloved by many, the series also attracted the ire of some LGBT viewers. As the show's central protagonist, a lot of the criticism fell onto Stephens.
In a recent interview with The Los Angeles Times, he discussed how he thinks about the pressure to present more masculine queer characters, especially under the added scrutiny of portraying a rare LGBT character of color.
"I don't think there was ever a decision that I was going to represent the underrepresented black gay man in America. I met with casting directors who were responding to calls and the characters I played were the roles. There were a lot of lessons about what people expected of us as black gay men, and I learned to have a thick skin about how black gay men are representing themselves. Everyone has an idea of what we should look like."
Get reacquainted with more of Stephens' work with our clips, below.
Stephens began his career in LA with small parts, like an appearance on MTV's Undressed. He also starred in a commercial for Dockers, which you can see above. He struggled with the notion of taking on gay roles. "You can be one or the other," Stephens told The Los Angeles Times. "You can be black or you can be gay. You can't be both."
https://www.youtube.com/watch?v=BDRG6ka2GPo
Noah's Arc premiered in 2005 and lasted two seasons on Logo. The dramedy didn't shy away from hot topics like HIV, homophobia, marriage and raising a family over the course of its run. Although he initially read for a different role, Stephens ended up playing Noah, a fabulous screenwriter. The power of portraying an effeminate black man was not lost on him. "You feel every time you see [a queer black character], they have to represent. When I saw [Mathew St. Patrick's] queer black macho husband on Six Feet Under, I thought: Is there nothing soft there? I love seeing all of the different types, and not prioritizing one over the other. Sissies can be powerful." Stephens talks more about working on the show and being an openly gay actor in his book Required Reading.
The feature film Noah's Arc: Jumping the Broom premiered in 2008. Fans came out to see it in droves, resulting in a per screen average that was second only to Angelina Jolie's Changeling during its opening weekend. The film was also honored with the GLAAD Award for Best Feature Film (Limited Release).
https://www.youtube.com/watch?v=ufXsBGFK7Nc
Stephens has appeared in other films, including Another Gay Movie and Boy Culture. The latter told the story of a male escort and his complicated relationships with his roommates and an older client.
You may also recognize Stephens from other LGBT characters he's played on television. He portrayed a trans woman on ABC's Private Practice (above). He also played a more masculine gay man on DTLA, the first series funded partially on Kickstarter to be picked up domestically and internationally.
What's your favorite of Stephens' role?