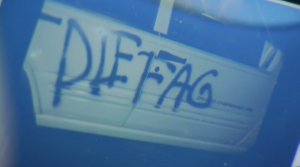 A North Carolina gay man left work early Sunday morning to find that his car had been vandalized in an apparent hate crime. The words "Die Fag" were spray-painted and keyed onto Andrew Windham-Harris' Jeep Cherokee. The anti-gay graffiti took Windham-Harris two hours to clean from his car and will reportedly cost him $500 in repairs.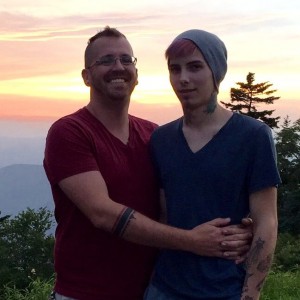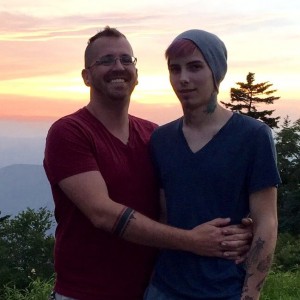 Windham-Harris (left) had married his husband (right) the day before the incident.
"It about tore my heart out," Windham-Harris said.
It happened between 11:30 p.m. and 12:30 a.m. Saturday night into Sunday morning. It was dark, but Windham-Harris had been called into work at a local takeout restaurant in Haywood County just outside Waynesville.
He had parked his Jeep in the back on one side of the restaurant. Two other cars, he said, were already parked there.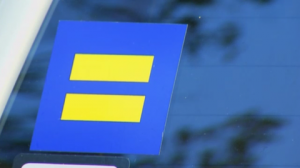 Windham-Harris' car also bears a Human Rights Campaign sticker on its back windshield.
"Mine was the only car that was painted," Windham-Harris said, who said Haywood deputies working the investigation have been kind.
"They were extremely courteous, they were remorseful," Windham-Harris said. "He personally felt bad about it, and was flabbergasted that this had happened in Haywood County."
Steve Snyder, Andrew's landlord and friend was outraged when he heard what happened.
"I've known Andrew at least seven years and he's a great guy," Snyder said. "He's just a great somebody, and whoever did this, I hope they get caught. Because it's a senseless crime; it's a hate crime."
Windham-Harris is insistent that he won't be intimidated by the homophobes who went after him:
"This has happened but I'm not going to let it back me down, or have me living in fear," Windham-Harris said. "I'm going to go on living my life, my new husband, and my house. And we're going to keep having the American dream work for us."
Watch a news report, below: