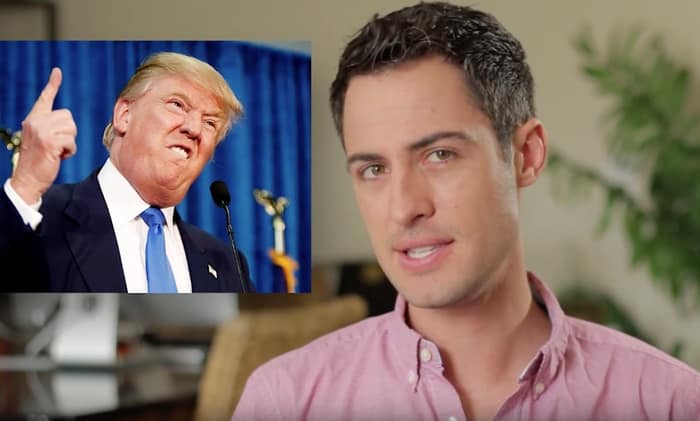 Gay vlogger Kyle Kittleson drank Donald Trump's Kool-Aid and likes the taste of it. Kittleson, who is also an animal expert who has appeared on Nat Geo, posted a coming out video to YouTube on Sunday.
"I'm tired of living a lie, so I want to come clean. I'm gay…and I support Trump."
Kittleson says he'll campaign for Trump, donate money to him, and vote "hard".
Kittleson says Trump's views on infrastructure, immigration, and equality are the reasons he's voting for him:
"Long before Hilary Clinton supported gay marriage and gay rights, Donald Trump supported equal rights for everybody.,"says Kittleson. "In an interview with The Advocate 15 years ago, Trump supported equal rights and equal protections for gays and gay couples. Granted, he didn't want it to be called 'marriage' but he did advocate for unions with legal, equal rights. In 2000 Trump also said that he would be totally fine with appointing gay people to his cabinet and that he wanted to amend the 1964 Civil Rights Act to include protections for the LGBT community. And what was Hillary Clinton's stance at that time? Don't ask, and she won't tell."
And as for Trump's crude behavior toward women? Kittleson explains:
"You have to think of Donald Trump as your slightly crazy uncle who's a little behind the times but still knows what's best."
He says he's coming out to inspire other gay supporters of Trump to join him.
"The truth is I'm not the only gay person in America who supports Trump. In fact, I tried to buy gaysfortrump.com and it was already taken. And that's not all. I have a lot of gay friends who totally support Trump but won't support him publicly. Why? Because they're afraid they'll lose their clients, their friends, and their gay card. Which is ridiculous. There's no such thing as a gay card."
How many gay Trump supporters go you know? Let us know in the comments.
Watch:
https://www.youtube.com/watch?v=XuNqNEAIbSA