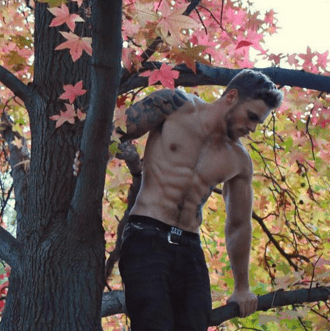 Gus Kenworthy is in New York and making the city's Central Park look like a magical wonderland.
In two photos taken by photographer Levi Jackman Foster and posted on Instagram, the recently out gay Olympian juxtaposes his own natural beauty with that of the famous park and the changing of the seasons.
In one photo, Kenworthy is shown climbing down from a tree resplendent in fall colors. Kenworthy captioned the photo, "Breaking News: Olympian saves cat (not pictured) from tree in Central Park. Paparazzi @nanuk_jf captures the moment as he climbs down."
Not sure if he's being facetious about the cat. Though the cat is hardly the point of the picture.
Jackman, meanwhile, posted a more atmospheric snap of Kenworthy nestled against the rocks of Central Park.
https://instagram.com/p/9UOw-UyO_P/
Jackman's caption–"Nothing's gonna change my world"–presumably alludes to the lyrics for "Across the Universe."
Cheers to your continued Instagram exhibitionism, Gus!