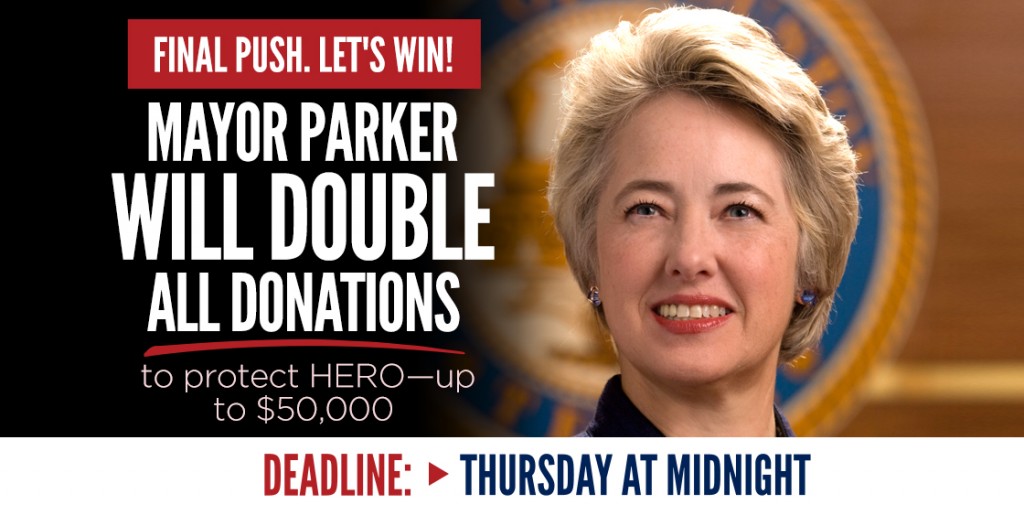 Out lesbian Houston Mayor Annise Parker has agreed to match donations up to $50,000 in support of the city's Equal Rights Ordinance, which will appear on the ballot Nov. 3.
From Houston Unites:
Mayor Annise Parker has been a champion of the Houston Equal Rights Ordinance since day one — and today, she's challenging us all for the final push.
Mayor Parker just confirmed that she will match up to $50,000 in donations — but only until Thursday at midnight.
This is our biggest matching gift challenge yet. And with Election Day in ONE week, it couldn't come at a more urgent time.
Houston Unites says the money will go toward TV ads like one released today, called "Neighbors," which highlights the fact that the ordinance covers not only sexual orientation and gender identity, but also 13 other characteristics including race, gender, pregnancy, religion and veteran's status. From the ad:
"We are all working hard to make Houston an even better place. When we step back, the Houston Equal rights Ordinance is really about giving all our neighbors a fair shot. Where people are judged by how hard they work. Where my neighbor can't be fired because he served in the military . . . Because she's getting older . . . Where families with kids aren't denied apartments. And where no one is denied entrance because of the color of their skin. Nobody in Houston should face discrimination. Working hard, looking out for our neighbors, that's what makes Houston strong. Vote 'Yes' on Proposition 1."
Meanwhile, opponents of HERO posted a video today in which they allege they've been the target of threats and sign thefts. The video from the Campaign for Houston, titled "NSFW CFH Hate & Threats NSFW," features social media posts, emails and voicemails:
"I just called to say you're a dick, and a bigot, and an ass," one caller says, according to the video. "Oh, and a bigot, and a bigot, you're a bigot. You don't belong in popular society. You get to spend eternity rotting and burning in hell."
Watch the Houston Unites ad and the Campaign for Houston video below.