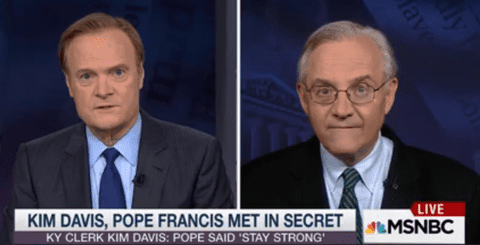 Last night on The Last Word host Lawrence O'Donnell interviewed E.J. Dionne of The Washington Post about Kim Davis' secret meeting with Pope Francis in Washington, D.C. last week. In particular the two discussed who was responsible for setting up the meeting in the first place.
O'Donnell remarked that it made no sense that Davis would be granted a meeting with the pontiff. Dionne agreed:
What happened as I understand it is that this meeting was not arranged by the American bishops, in fact I am told there was a lot of opposition to this meeting among the American bishops. It was arranged by the Vatican Nuncio I am told, Carlo Maria Viganò, the Vatican nuncio is the ambassador. That is consistent with reports that say the meeting was arranged by a Vatican official. And the meeting itself happened at the nunciature, the Vatican embassy. Archbishop Viganò is known as a cultural conservative. He was named by Pope Benedict.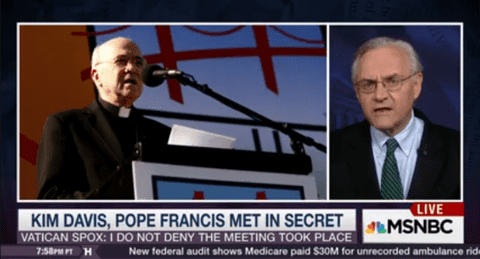 As to the Vatican keeping mum on the visit with Davis except to confirm that it happened, Dionne said,
I think the Vatican is going to have to say more about this because so many conclusions re being drawn about this and it flew in the face of everything the Pope was saying here…[while visiting the U.S.] he didn't talk about same-sex marriage as such, he was fighting against culture wars. So they have a lot of explaining to do about this meeting.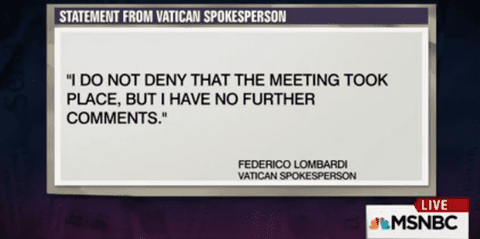 Watch the interview below: