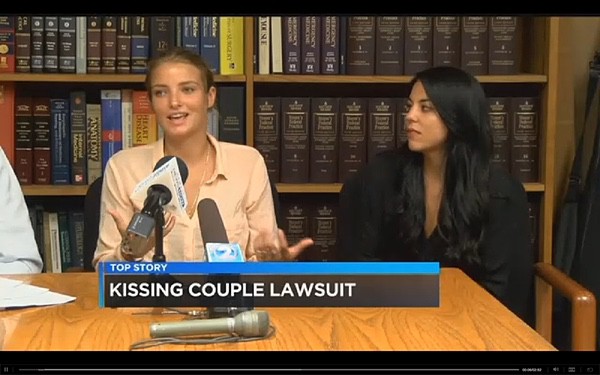 Courtney Wilson and her girlfriend Taylor Guerrero, a Los Angeles couple, have filed a federal lawsuit claiming they were attacked by a Honolulu police officer on their second day of vacation in the state after he witnessed them kissing in a grocery store.
Said Guerrero: "We were holding hands and I was kissing her cheek. He was like you girls, you girls can't do that in here."
It was then that the officer, a 26-year veteran of the force, followed them to the checkout, threatened to arrest them for trespassing, and then got physical when Guerrero tried to call the police, they say.
"I got punched in the face by him," Wilson said. "I split my nose open. We were on the ground." The women said Foodland employees were then instructed to hold them down until someone found zip ties.
"They took us down to the basement of Foodland where they continued to harass us about our conduct in the store, asking us if it was worth it, if we were happy where we are," Wilson said.
"We were just shocked that it all happened."
The two were arrested for assaulting a police officer and had to use the money they came to the islands with to post bail. As a condition of their release, they couldn't leave Oahu and wound up sleeping in a park. After five months, prosecutors threw out the case, said their attorney, Eric Seitz.
Surveillance tapes of the incident have disappeared. Photos of Wilson's injuries were not taken until two days following the assault.
Read the full lawsuit HERE.
Watch HNN's report: