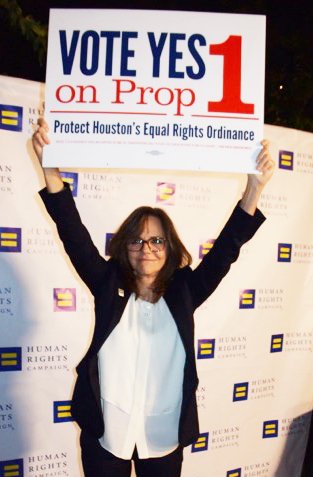 Two-time Academy Award-winner Sally Field channeled one of her most famous roles on Wednesday to lend her support for Houston's Equal Rights Ordinance (HERO).
While walking a red carpet at a Human Rights Campaign (HRC) event, Field held up a sign in support of HERO (pictured above), evoking the famous image of her playing textile worker Norma Rae holding a sign that read "UNION" (below).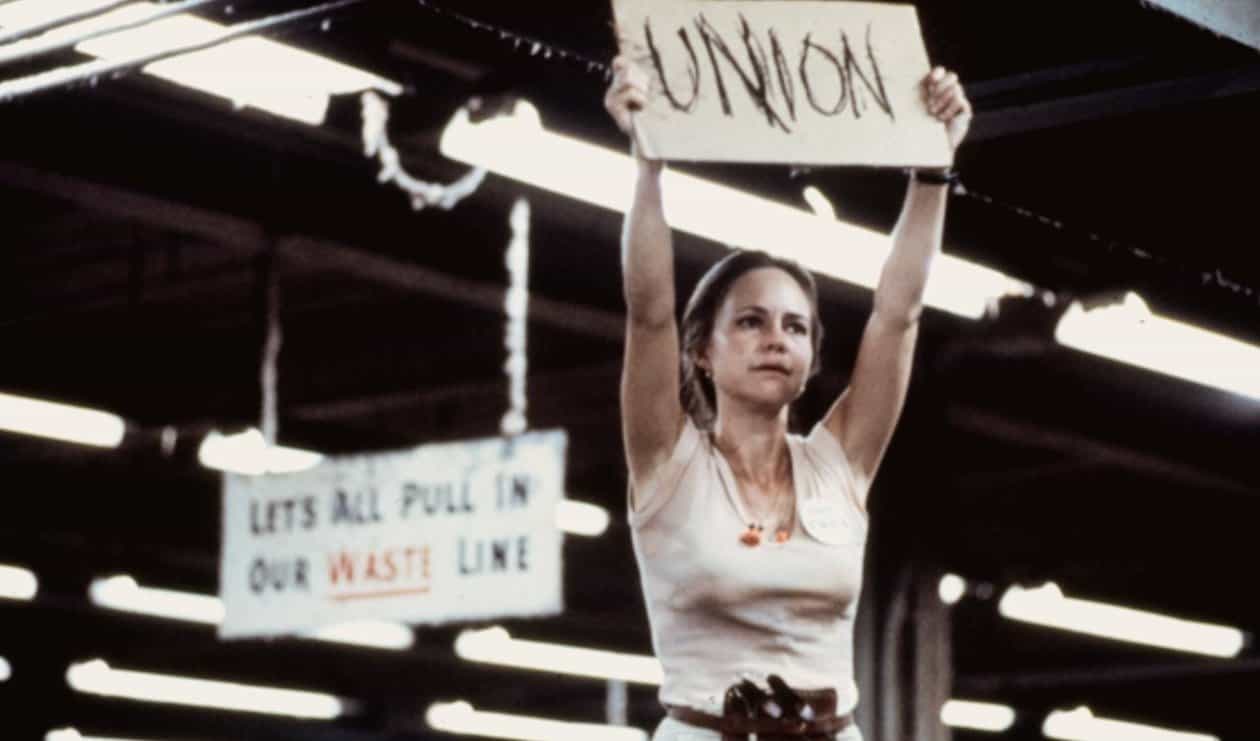 HRC President Chad Griffin shared the photo on Twitter, writing, "Our hero, Sally Field, standing up against discrimination and fighting for all Houstonians tonight!"
Field will speak at an event on Thursday sponsored by Houston United and The Human Rights Campaign. Click2Houston reports:
Joining Field will be Texas State Senator Sylvia Garcia and other Houston-area civic leaders. With less than a week until Election Day, the event will highlight the importance of HERO to women and how women all across Houston – and from every walk of life – are leading the fight for Proposition 1 to ensure they get a fair shot at success.
As The Fort Bend Herald notes,
"HERO protects people in employment, housing and business services on the basis of 15 different characteristics, including sex, race, color, ethnicity, national origin, age, familial status, marital status, military status, religion, disability, sexual orientation, genetic information, gender identity and pregnancy."
Sally Field and women leaders in Houston are urging a YES vote for equality and a YES vote for #HERO pic.twitter.com/Fv2YZcaYW9

— Chad Griffin (@ChadHGriffin) October 29, 2015
Today's front page of the Houston Chron has huge ad wrap promoting yes vote on Tuesday for nondiscrimination law: pic.twitter.com/203bnXNwtd

— Dominic Holden (@dominicholden) October 29, 2015
For all of Towleroad's HERO coverage click HERE.