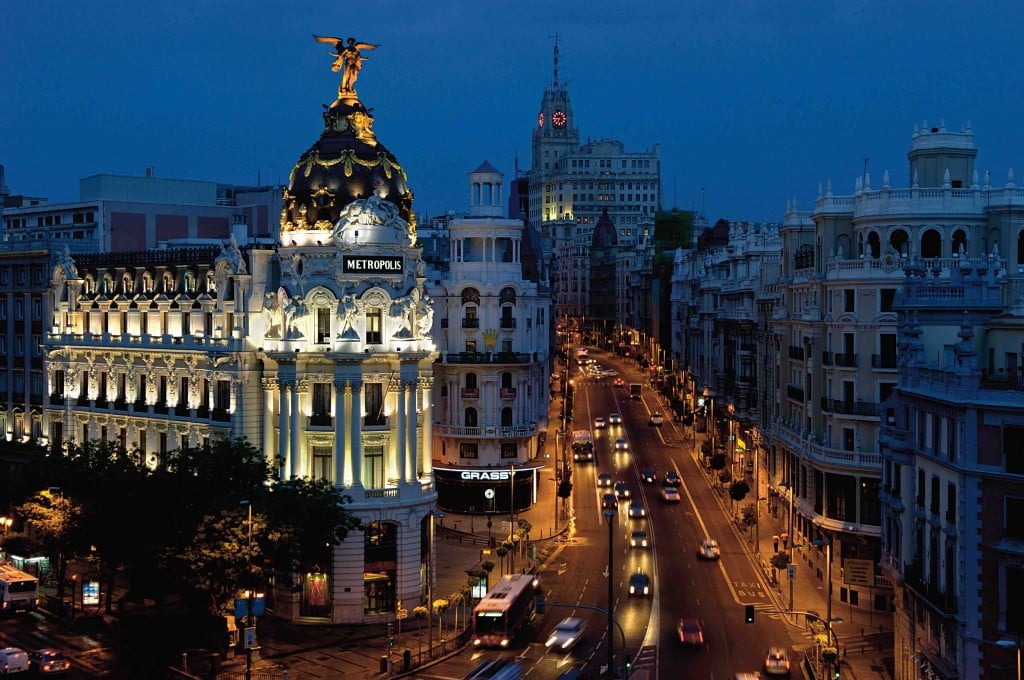 Madrid is both vibrant and international, a melting pot like New York and London, and worthy of the comparison. Think of Madrid as a sort of world stage where the best of the country has come to play, cook, perform, and do whatever it takes to stand out. From the bullfighting in Pamplona to the lyrical language of the Catalans in Barcelona, you'll find it all in the streets of Madrid. Tourism is thriving and American travelers benefit from an exchange rate that is much more favorable for U.S. dollar holders than it has been in a long time ($1.12 per euro as of today). This is a great time to plan a quick weekend. The weather is still warm and sunny (with cooler evenings) and there's a real energy in the air as locals return to work and school with mucho gusto.
WHERE WE STAY
Your best bet is to find a sexy, chic hotel in the heart of Chueca, the city's gay district, central and bustling. For something a bit quieter, we offer luxury options near Retiro Park and downtown, though we find them a bit removed from the action.
1. Only You: A sexy Chueca boutique hotel, intimate, luxurious, and stylish, with a fantastic bar and in-house restaurant. Located in the heart of the gay district, and close to the little known Museo del Romanticismo. For more indepth information see CheckOut: Only You in this month's issue.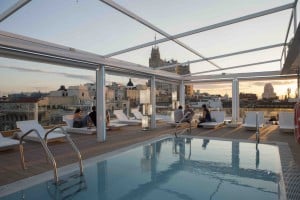 2. Room Mate Oscar: A boutique hotel in lively Chueca and close to the posh shops of Gran Via, Room Mate Oscar has playful, colorful mid-century decor, suites with scenic views, and a rooftop terrace bar, hip restaurant and a reservations-only pool. The breakfast buffet is delicious and worth the extra charge. For more in-depth information see CheckOut: Oscar in this month's issue.
3. INNSIDE Madrid Suecia: A historic, refurbished building once home to Ernest Hemingway, INNSIDE has rooftop views, modern rooms, and Dado Deli, a delicious restaurant with a seasonal menu. This hotel is the epitome of charming chic located close to the Gran Via.
4. Mandarin Oriental Ritz Madrid: A gorgeous baroque palace built in 1910, this chic and regal gathering spot for the city's elite is our favorite of its five-star accommodations. It's just come into the Mandarin Oriental fold and they're not really announcing it till they tchuz it up a little (the gorgeous old dame needs some work!) but it's as elegant and gloriously Belle Epoque as you can imagine. It's located across from Retiro Park and it's as famous for Sunday brunch as it is for having classy and elegant rooms. Even if you're not staying here, the lobby lounge is a nice spot to pop into should you need a little rest stop as you stroll around this area. Order tea or a glass of wine and enjoy the international people watching.
5. Iberostar Las Letras Gran Via: Iberostar, the large Spanish-based hotel group, has taken over and renamed the Hotel de las Letras, an avant-garde 109 room hotel on the Gran Via. Some of the deluxe double rooms on the 5th and 6th floors have private outdoor terraces, and even jacuzzis. The hotel is set on an upscale shopping street, features elegant rooms with oak floors, handmade rugs, and famous quotes written on the walls. We especially love the rooftop bar and tapas lounge.
This weekly travel column is brought to you by ManAboutWorld, an immersive digital gay travel magazine for iOS and Android devices from Ed Salvato, Billy Kolber, Kenny Porpora, and nearly 75 Global Correspondents. For more recommendations from ManAboutWorld's global gay experts, download our App. There are FREE guides and a 10-issue-per-year subscription-based magazine.
Photos: Top: Madrid courtesy PromoMadrid; Middle: courtesy Oscar Hotel; Bottom courtesy: Calvin Smith via Flickr.