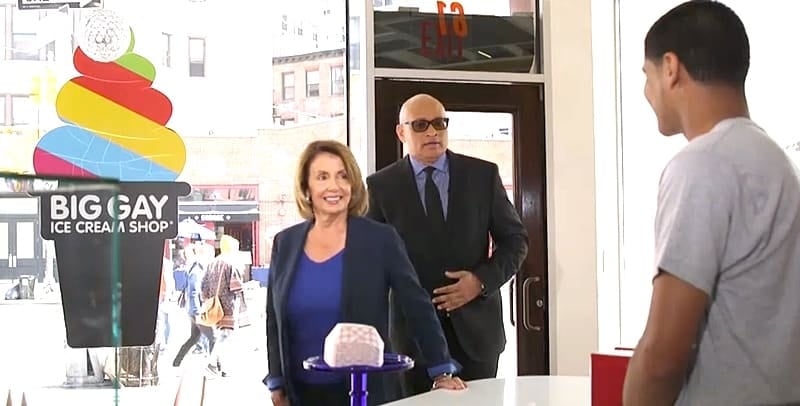 Larry Wilmore wanted to pick Nancy Pelosi's brain about the current House Speaker race on her thoughts on the current state of the GOP so he took her somewhere Republicans wouldn't dare to tread: NYC's Big Gay Ice Cream Shop.
And the interview was nothing but tasty.
Pelosi revealed how long it took to get the "orange goo" off her face after kissing Boehner (Wilmore kindly reminded her by sharing a photo) but did have some nice things to say about him:
"He was very loyal to his members, to his caucus. They said to him you either shut down government or you give up the gavel, and he responsibly gave up the gavel and kept government open."
Pelosi also gets grilled on who she thinks the craziest Republican is and if she'd push John Boehner, Mitch McConnell, or Donald Trump out of a hot air balloon if she had to.
And she answers this question:
"If we were at the inauguration of President Trump, would you be projectile vomiting or just throwing up in your mouth?"
As for her thoughts on Democrats, the former House Speaker also revealed if she winces when she sees Obama in his "mom jeans" and who she's supporting in the Democratic presidential primary.
Watch Wilmore get the scoop from Pelosi: