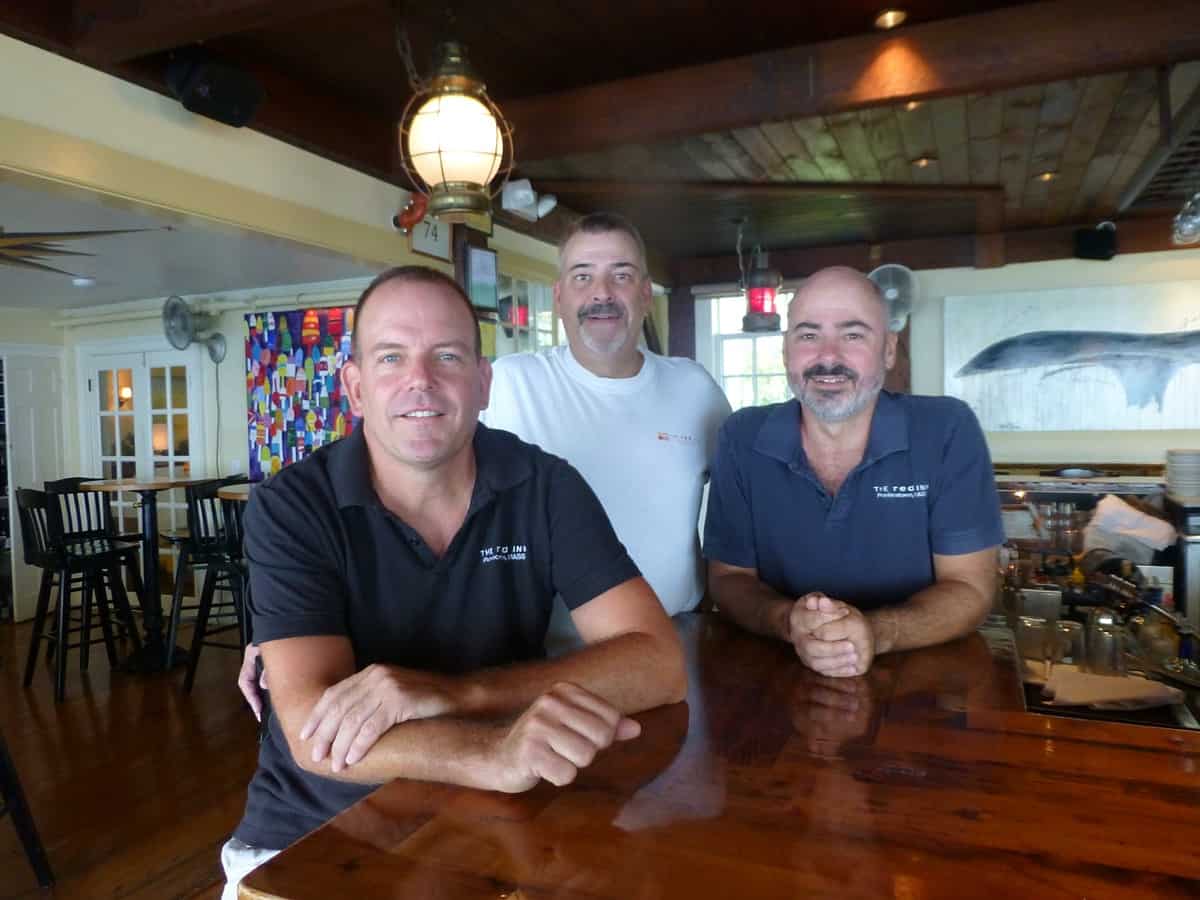 The red Inn, one of our favorite Provincetown spots, is having a 100th anniversary this month, so we wanted to mark the occasion by celebrating a gay-owned business we love, and an historic destination in this gorgeous Cape Cod, Massachusetts town where we've spent many summers. The inn, at 15 Commercial Street near the very tip of the cape, is also one of Towleroad's partners in our Ptown Hacks 2015 travel guide (co-sponsored by the Provincetown Tourism Fund) which many of you may have picked up on your travels here this summer.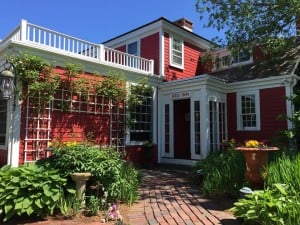 If you're looking for one of the quintessential Ptown spots to enjoy some oysters or have a romantic meal or a cocktail with friends, this classic saltbox-style restaurant and hotel which overlooks the shifting tides of the harbor exudes old world charm.
It has become an iconic institution thanks in part to  three friends— David Silva, Sean Burke, and Philip Mossy — who bought it as a joint venture shortly after 9/11 and have spent the past 14 years renovating, polishing, and building a business where everyone feels welcome.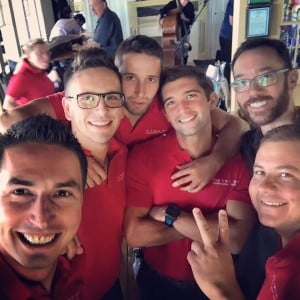 "The town's always had the element of acceptance," says Silva, whose family has been in Provincetown for three generations. "My parents' generation was a staunch Portuguese Catholic community. If they hadn't been so accepting of making their living off the beachgoers, and the hippies and the artists and the actors to making their living primarily on the gay dollar – if they weren't that accepting the town could have gone a whole different way, but they were. And consequently businesses and shops and B&Bs are mostly gay-owned and operated by people who live here and call it a home now."
Silva used to open a beloved fast food shack called Silva's Seafood Connection before joining Burke and Mossy in The Red Inn. "I went from flipping hamburgers to drinking vodka," he says.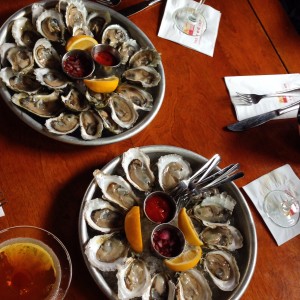 Burke, meanwhile, was shucking oysters at another former Ptown institution, Clem & Ursie's. He met Mossy on a ski trip and the two became a couple (they're now simply business partners).
Burke and Mossy saw the "For Sale" sign on The red Inn, which according to Burke was completely run down at the time, and thought they could make something of it. They put in an offer and it closed within a week. They found a third business partner in Silva and the real work began.
"The energy in it was scary," Silva adds. "It had a heaviness."
The group did a total remodel of the kitchen,added a basement and partial 2nd floor, moved bathrooms and guest rooms, expanded the dining room, added a foundation and second story in two places, and rebuilt the bar from rafters above the old kitchen.
"It was a huge undertaking that we are glad to say the three of us have survived and remain best friends, an accomplishment in and of itself," says Silva.
The inn was built in 1805 but didn't open as The red Inn until 1915, when then-owner Mary Wilkinson opened her home to visitors from around the world.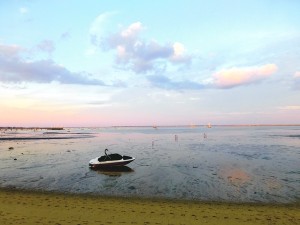 Said Silva: "We are often asked 'What is one of the biggest unknowns about The red Inn?'  My response has always been the same, that The red Inn has accommodations.  I hear people all the time say 'I think they have rooms here too.' Not only does the inn have rooms , but the accommodations are amazingly beautiful, all with water views, private bathrooms and outdoor deck space."
The Inn has some pop culture history as well. Joe Kennedy and Gloria Swanson were rumored to rendezvous at The red Inn while they were having an affair. Norman Mailer, a longtime Provincetown resident, shot scenes from the film adaptation of his novel Tough Guys Don't Dance starring Ryan O'Neal and Isabella Rosselini in what is now called the 'Captain's Room' dining area at the Inn.
"The Provincetown Monument can be seen through the Inn's window, now and in the film," Mossy explains.
So, next time you're in town, stop in and have a meal or try their Raw Bar Happy Hour (one of our favorites) 2:30-5 daily with specials on oysters, shrimp, and steamed clams, or have a cocktail and enjoy the view on the deck.
As part of its 100th anniversary celebration, The red Inn is having a 'Red Party' on October 17 for those of you able to make it to the Cape this fall.  Hors d'oeuvres, live music, and a cash bar from 6-11 pm, with a $20 donation at the door to benefit the Center For Coastal Studies. Dress, of course, is red.