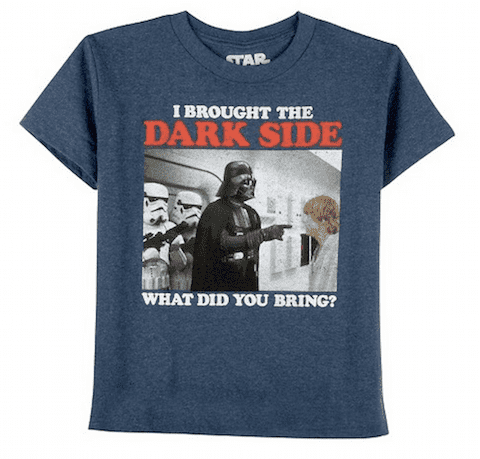 In the opening scene of Star Wars: A New Hope, Darth Vader boards Princess Leia's ship. Target has altered a still from the iconic scene on one of its boys' T-shirts, replacing Leia with Luke Skywalker.
The T-shirt, which contains the phrase "I brought the dark side. What did you bring?" features Vader wagging his finger in Luke Skywalker's face, although it was Leia who boldly endured Vader's threats, cementing her role as a rebel and hero in the series.
Writes pop culture site The Mary Sue:
I guess we have to conclude that the marketing and design team behind this shirt thought that since the product is "for boys," it can't have a female character appear on it, even though she's not even in the center of the picture. So the designers unnecessarily created extra photoshop work for themselves, for no reason other than to remove Leia's existence from a scene that only Leia could logically appear in. Why erase the history of one of the most popular movies ever? It's not only sexist, it's also just silly, and it sets a depressing precedent for the young boys wearing this shirt.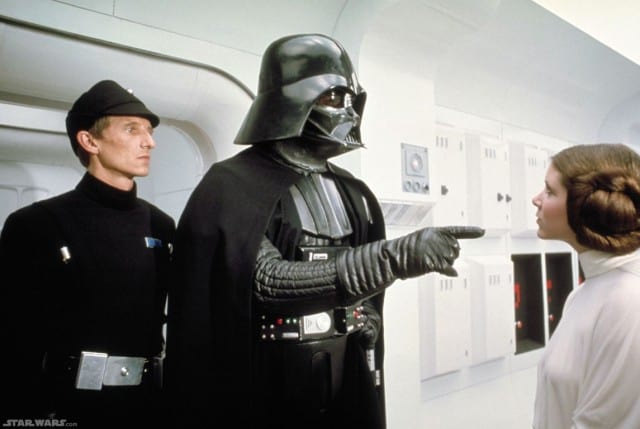 Although it may seem like a trivial design choice, it's conspicuous that the shirt is sold only in the boys section, without a female counterpart featuring Leia, after Target recently announced it was doing away with gender labels on toys.
In related news, the people behind the Star Wars franchise released a new film poster for Star Wars: The Force Awakens over the weekend that prominently features Daisy Ridley's character Rey, along with a small portrait of Princess Leia underneath her; Mark Hamill's Luke Skywalker, who is confirmed to appear in the film, is conspicuously missing from the poster.