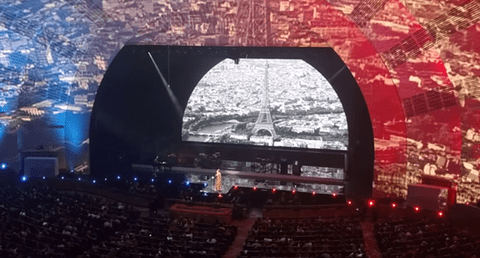 Performing at New York City's Radio City Musical Hall last night, Adele delivered a special performance of her song "Hometown Glory" dedicated to the city of Paris and those who lost their lives in Friday night's terrorist attacks.
As Adele began her performance of the song from her debut album 19, images were projected behind her showing a view outside an airplane window of clouds covering the earth below. Clouds soon gave way to an aerial view of the Eiffel Tower and the beautiful sights of Paris.
The crowd cheered when the Eiffel Tower came into focus and again when Adele sang the lyrics "Shows that we ain't gonna take it. Shows that we ain't gonna stand sh[*]t. Shows that we are united."
The projections were lit up with the French tricolor.
Adele's famous video for her song "Someone Like You" was shot on the streets of Paris.
Watch Adele's moving tribute to the city of light, below: