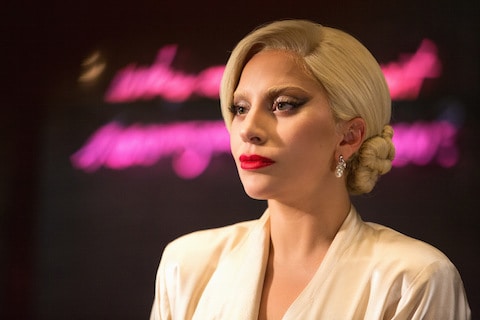 If nothing else, you can't say Ryan Murphy hasn't shown us enough butts this season. In tonight's episode, "Room 33," you glimpsed the tushes of Wes Bentley, Cheyenne Jackson and Finn Wittrock. It's not a bad way to keep viewers' attention.
Tonight, we took a peek into the past of The Countess (Lady Gaga) and had some excellent moments with Denis O'Hare's Liz Taylor. As usual for this show, there are still lots of plot points to juggle — Ramona's revenge, the army of undead children probably terrorizing Los Angeles, the Ten Commandments Killer, just to name a few — so I'm bracing for a whirlwind back half of the season that will wrap up these disparate pieces with varying degrees of success.
Let's check in with the dead, the undead and everyone in between in our SPOILER-filled recap, below.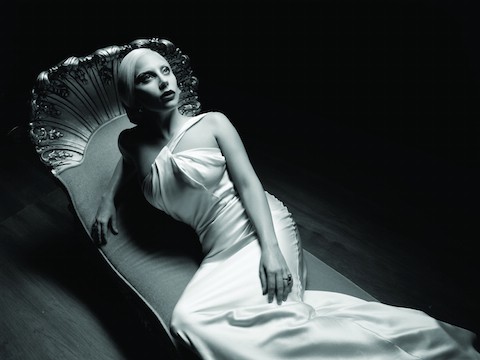 First, we venture back to 1926. Gaga arrives at the Murder House from season one for a little appointment with Dr. Charles Montgomery (Matt Ross). She's three weeks pregnant, though her massive baby bump doesn't quite match up to her timeline.
The doctor preps her for an abortion, but it's clear not everything is on the level. For starters, the nurse says, her body temperature is freakishly low. Then, as he removes the fetus, the nurse notes that she thinks it's still alive. As soon as she gets the words out, the baby attacks, killing her. It's an obligatory joke, but it looks like Gaga's got a real Little Monster on her hands. (Womp, womp)
Back in the present day, Gaga is getting ready to head off to Paris with Will Drake (Cheyenne Jackson). It seems like her plan to seduce the gay designer has been working, even if she needs to enlist Tristan (Finn Wittrock) to help fluff him during their lovemaking. Before Gaga heads out on her trip, she stops in Room 33 to say goodbye to her baby, Bartholomew. Yes, yes. She had the ancient blood virus when she got her procedure, and it seems like it affected the baby as well. He's living forever in this deformed infancy.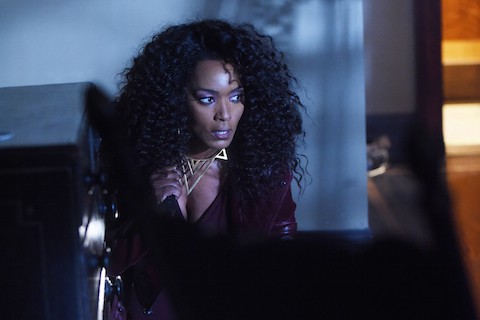 You know what they say: While Gaga's away, her murderous ex-lovers will play. Ramona (Angela Bassett) and Donovan (Matt Bomer) show up to (literally) slay all Gaga's children. When Ramona and Iris (Kathy Bates) arrive at the pool to do the kids in, there are no coffins to be found. (More on that in a bit.)
Well, Ramona isn't leaving without killing one of Gaga's babies, so she'll have to settle for stabbing Bartholomew. She goes up to his room, but he attacks her and escapes.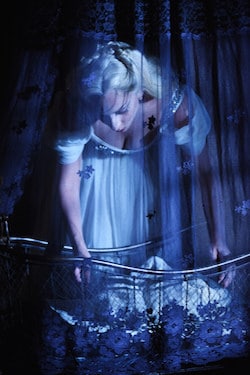 Donovan is upstairs fixing himself a drink in the penthouse he used to share with the Countess. That's where he encounters the two murdered Danish girls from the season premiere. He explains to them (and the audience) that they are trapped in a loop in the hotel that they can only break once they find a purpose. A former ghost at the Cortez found theirs by terrorizing other guests, which sounds like as good of a purpose as the the two Danes could think up.
They lure some douchey guest into a room and stab-stab-stab the purpose out of him. When they're done, they still feel sort of bad. That's when Alex (Chloe Sevigny) finds them and is like, how about you try to find a purpose that doesn't involve so much murder and mess? They think that's a great idea (or at least half of it is), so Alex gives them an idea for their next victim.
It's her soon-to-be-ex-husband, Detective John Lowe (Wes Bentley). He's been having a tough go of things lately. First, he woke up next to his long-lost song Holden (Lennon Henry), only to chase him to the glass coffins. He passed out from shock when he caught a glimpse of his wife and son, leading Alex to pump him full of drugs, slip him back into bed and convince him he's having visions. That's when she removed the coffins from the pool to trick him. Classic gaslighting.
Alex can't keep risking him catching her and Holden running around the hotel. He's got to go. That's why she sicks the Danish girls on him. They get him in bed and engage in a wild threeway romp, complete with lots of blood pouring out of them and all over John.
Finally, that's it. He's ready at last to pack it up and check out of the crazy hotel, which you think a detective would have deduced ages ago. He packs up his suitcase, and, as he does, Little Bartholomew climbs in and hitches a ride out.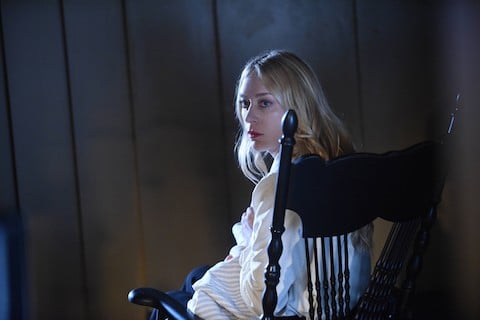 John picks up his daughter (remember her?) and brings her home. She, unsurprisingly, is a little upset that her parents both pretty much abandoned her. She sits down in front of cartoons and John spots Bart across the kitchen. He shoots at the baby, which freaks out his daughter, leading to a call to Alex and/or the police. They arrive and Alex convinces John he just needs a little sleep.
That's when she hears the missing Bartholomew rustling in the bushes. She scoops up the baby and brings him home. When she returns from Paris, Gaga is grateful that Alex saved her son. Alex responds that Gaga saved hers, which is a pretty twisted interpretation of Holden's kidnapping.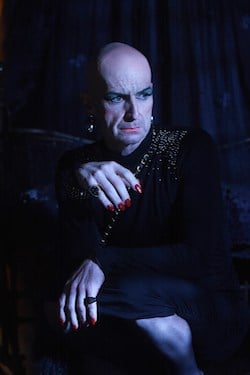 Gaga doesn't have time to parse out Alex's psyche right now. She's got more pressing matters that require her attention. Liz Taylor has fallen wildly in love with Tristan, and the undead bad-boy has fallen right back in love with her. (Note: since we got a little more clarity on how Liz identifies, I'm going to start using female pronouns.) Theirs is a true romance, a deep connection. Liz feels that if she just explains it to Gaga, the Countess will understand. Sounds like a great plan!
Liz sits Gaga down for the talk, revealing not only that she and Tristan are having an affair, but, when Gaga offers that Liz can have Tristan when she's done with him, Liz retorts that she wants this now. It's her one great love of a lifetime, and she's not wasting any of it. Gaga icily asks to talk to Liz and Tristan together.
The model joins them, and immediately launches into a tirade about how Gaga gets off on breaking hearts. Tristan says the Countess makes people fall in love with her so she can grow tired of them and abandon them, which, to be fair, we've seen her do to Ramona and Donovan already. The thing is, if I were confessing an affair to an immortal Countess with a tendency to murder people who cross her, I wouldn't also pile on so much judgment, you know?
Gaga apparently agrees. She slices Tristan's throat right in front of Liz.
Ouch. That was way harsh.
What did you think of the episode? Now that Gaga's alienated even her most loyal followers, is she ripe for Ramona's picking? Share your thoughts in the comments!