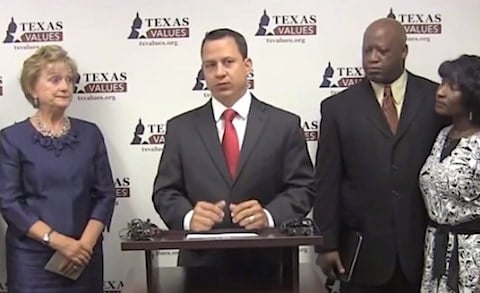 An anti-LGBT hate group that helped repeal Houston's Equal Rights Ordinance is vowing to do the same in Dallas after the City Council voted Tuesday to strengthen transgender protections.
A week after HERO was repealed, the Dallas council members voted unanimously to list gender identity and expression alongside sexual orientation in the city's nondiscrimination ordinance, which covers employment, housing and public accommodations. Previously, gender identity was included in the ordinance under the definition of sexual orientation.
Shortly after the vote, the anti-LGBT hate group Texas Values called the Dallas law "an aggressive and dangerous bathroom ordinance that allows men into women's bathroom (SIC)," as well as "a threat to safety and freedom." Texas Values President Jonathan Saenz, whose ex-wife famously left him for a woman, accused the City Council of fast-tracking the ordinance in a closed-door meeting on Monday, without public input.
"This Dallas bathroom ordinance will allow men into women's bathrooms and that's why the Dallas City Council is deliberately trying to avoid the people. Their fast track method of passing this dangerous bill that threatens the safety of women and children is the same strategy used in Houston to disenfranchise voters with their failed bathroom bill. Creating law behind closed doors and forcing it onto the people the next morning is a recipe for disaster. These Obama and D. C. style tactics will not work in Texas. Get ready for a Texas-sized response."
The reality is that transgender people were already covered under the Dallas ordinance, which has been in place since 2002. The changes approved Tuesday merely updated language to make the transgender protections more clear and accurate.
The New Civil Rights Movement reports on Tuesday's vote:
The 15-member council approved the changes with little discussion.
Councilman Adam Medrano, who heads the city's LGBT Task Force, which proposed the changes, thanked members for their work. Mayor Mike Rawlings thanked Medrano.
"We're a very diverse city," Rawlings said. "We want to make sure everyone's protected."
According to Texas Values, anti-LGBT state Sen. Don Huffines, R-Dallas, has already asked council members to reconsider the vote.
The Human Rights Campaign also released a statement on the vote:
"Today, the Dallas City Council took action to strengthen protections for transgender Americans and reaffirm their commitment to equality and justice for every person," said HRC President Chad Griffin. "In the wake of a vicious campaign in Houston that attacked transgender people and led to the repeal of common sense protections, Dallas today sent a vital message that they will fight to protect and advance the rights of transgender people."