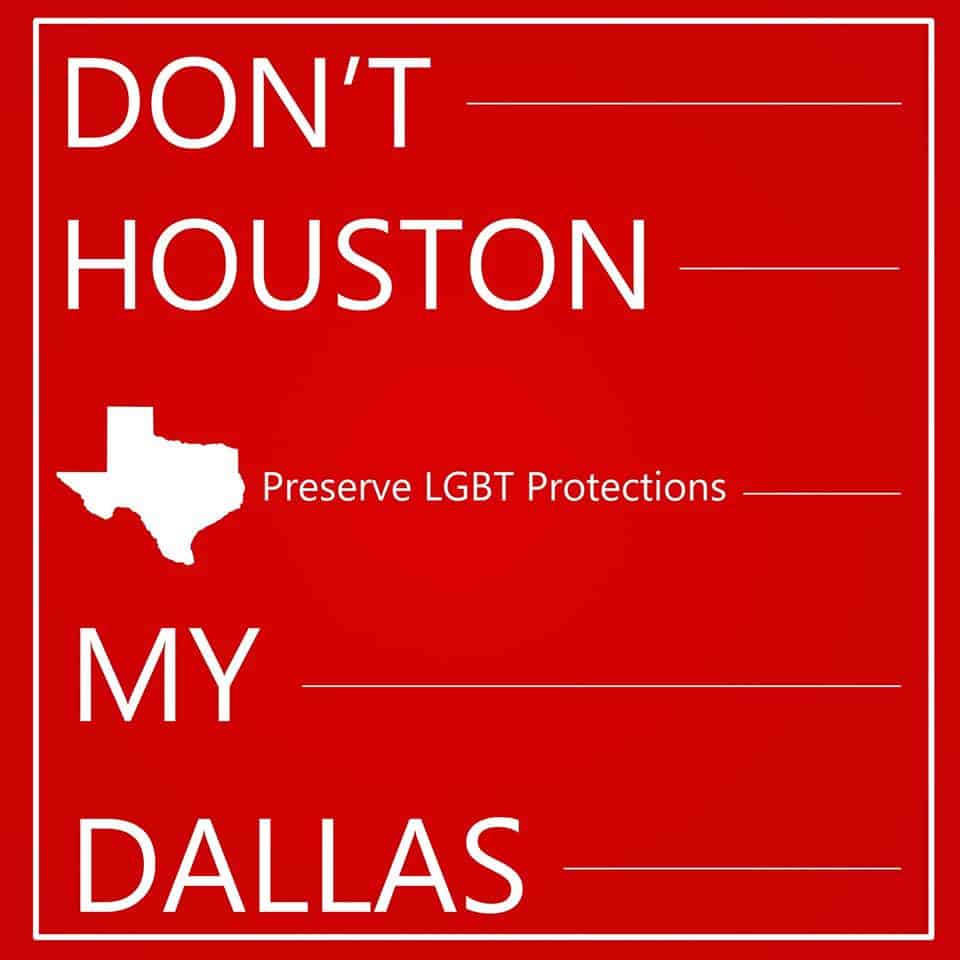 As we mentioned the other day, anti-LGBT groups that repealed Houston's Equal Rights Ordinance are now taking aim at Dallas' nondiscrimination law, which the City Council unanimously amended Tuesday to strengthen transgender protections.
However, the haters will face a much higher bar for getting a referendum on the ballot in Dallas thanks to the city's charter, which would give them 60 days to gather signatures on a petition from 10 percent of the city's voters, or roughly 50,000 people.
Under the Houston charter, the groups needed signatures from only 10 percent of those who voted in the last election, or about 17,000 people, which city officials said they failed to get. And Houston has a much larger pool of registered voters to draw from, about twice as many as Dallas.
A judge and jury upheld Houston officials' decision to reject the anti-HERO petition, saying it didn't have enough valid signatures due to things like widespread forgery. However, HERO opponents later obtained an order from the Texas Supreme Court, which told the City Council to repeal the ordinance or place it on the ballot.
It's doubtful Dallas officials would repeat mistakes from Houston, where the city secretary initially certified the petition — a decision that later served as the basis for the state Supreme Court's ruling — before the mayor and city attorney intervened and rejected it.
Furthermore, the Dallas ordinance has been in place for 13 years, with zero cases of men entering women's restrooms to prey on victims, so opponents will have a more difficult time succeeding with the transgender bathroom argument.
Finally, Houston is more conservative than Dallas, in part because it is so large both geographically and population-wise, taking in heavily Republican suburban areas. Houston is situated in Harris County, which is purple if not red (Republican). Dallas County, on the other hand, is solidly blue (Democratic) and has been for 10 years.
Of course, none of this is likely to stop the anti-LGBT groups that overturned HERO from thumping their chests and launching a petition drive to repeal the Dallas ordinance. From The Houston Chronicle:
In Houston, conservative activist Jared Woodfill said the same core group that helped defeat the ordinance here 61 percent to 39 percent will deploy similar tactics in Dallas and seek to force a repeal referendum. Woodfill's group will help collect signatures, send letters to Dallas City Council and organize with local conservatives. …
Woodfill and fellow conservatives hammered a message in Houston that the gender identity provision of the equal rights law would allegedly allow men to use women's restrooms. Though supporters of the law said that was false and tried to broaden the conversation to include the 14 other classes protected in housing, employment and public accommodations, opponents' tactics won out.
"We said from day one wherever these ordinances appear we're going to be on the ground and ready for the battle," Woodfill said. "The Dallas City Council clearly didn't learn of or hear the message voters sent in Houston, Texas."
Assuming opponents do launch a petition drive, one question that will be asked is whether it was prudent for the Dallas council to update the city's nondiscrimination ordinance just one week after HERO was repealed in Houston. The Dallas ordinance already prohibited discrimination against transgender people in employment, housing and public accommodations. The amendment approved Tuesday merely clarified the existing protections, but by taking up the issue now, the city has invited an effort to repeal the entire law.