An adorable PSA featuring two gay dads and their adopted son is being attacked by homophobes on Instagram.
You'll probably recall The Love Has No Labels campaign from a viral video which racked up millions of views over the summer which intended to show that love is love regardless of gender, sexual orientation, age, or race. It showed people dancing, hugging and kissing behind a giant X-ray, though on the front of the screen all the couples looked nearly identical.
Jason and Anthony Henderson-Strong and their five-year-old adopted son Marcelino participated in the video PSA.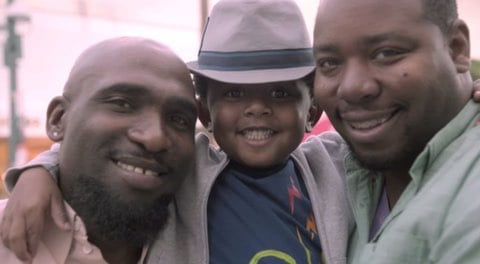 A new Instagram campaign from Love Has No Labels has the same thematic goals, though its subjects are given separate photo features, and the Henderson-Strongs appear in this one as well:
Unfortunately, their PSA, "Love Has No Gender", has incurred the wrath of homophobes on Instagram. You can read some of the vitriol if you're interested, on the Instagram site, but it would be great to throw them messages of support as well.
(h/t pink news)