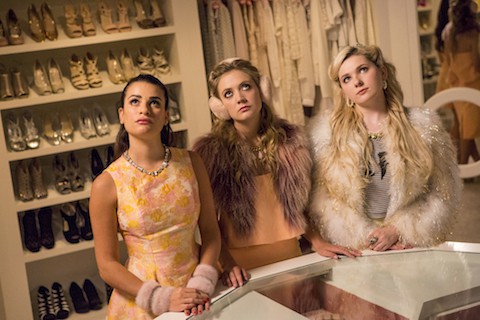 You know, for all the hating I do on Ryan Murphy productions, they certainly aren't without their charms. Though this season of American Horror Story has left me feeling rather unenthused, I've come to really enjoy my time with Scream Queens each week.
Perhaps it's because it's free from the obligatory moralizing that dominated Glee once its zeitgeist took off. Or maybe it's just unburdened by the overly serious tone that weighs down the insanity of AHS. Whatever the case, the unrestrained camp and lack of moral compass driving Scream Queens has made it an enjoyable hour of television. Sure, the plot points are still nonsensical and it relishes every opportunity to indulge in questionable taste, but it's certainly not aspiring to do much more.
We've only got three episodes left to unmask our Red Devil killer, so let's not waste any more time. Catch up with what went down in last night's episode with our SPOILER-filled recap, below.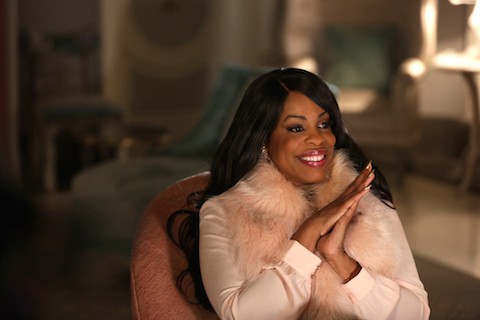 Things are getting spoopy at the Kappa House. Denise Hemphill (Niecy Nash) declares that the only thing that calms her down when she's frightened is to tell ghost stories. So the remaining Kappa ladies swap stories about soggy Japanese monsters in the toilet, a killer that murders you based on which color toilet paper you choose and the common story of the truck driver honking and flashing high-beams to signal the woman in the car in front of him that there's a killer in her backseat.
Of course, what happens next involves the Red Devil (unsuccessfully) attempting to kill both Denise and Chanel No. 5 (Abigail Breslin) in strikingly similar fashions to the stories they just told. I may be ready to drop my theory about Zayday (Keke Palmer) being a killer, but I am now more convinced than ever that Denise is actually an exceptionally competent detective, maybe even an undercover FBI investigator. I think she moved into Kappa House to get a closer watch on the Kappa girls. And her claim that ghost stories calm her seems like it could be a ploy to see if a potential killer takes the bait and acts on the inspiration. I think the other killer is for sure among the Kappa ladies. Who, exactly? I'm still not sure.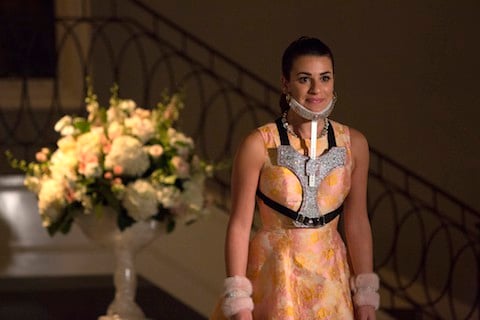 My money might be on Chanel No. 6/Hester (Lea Michele). After hearing about how Chanel No. 1 (Emma Roberts) has been invited by Chad (Glen Powell) to the Radwell Thanksgiving celebration, Hester snaps (figuratively). This news sends her running to Chad to confront him. When he shoots her down on account of her Hamburglar breath and Pooh body, she runs back to Kappa to tell Chanel Prime that her and Chad have been doing the (probably most) nasty, and, TWIST! she's pregnant. We know Ryan Murphy loves a fake pregnancy, and this is no different. She's faking it, as revealed by the Chanels tricking Hester into consuming sushi, soft cheeses and champagne. Chanel No. 1 isn't going to let Hester take her place at the Radwell Thanksgiving table, so she Death Becomes Hers down the dramatic KKT staircase, sending her crashing to the floor with a sickening snap. Was it Hester's already wobbly vertebrae? Or was it the sound of her conveniently reintroduced neck brace?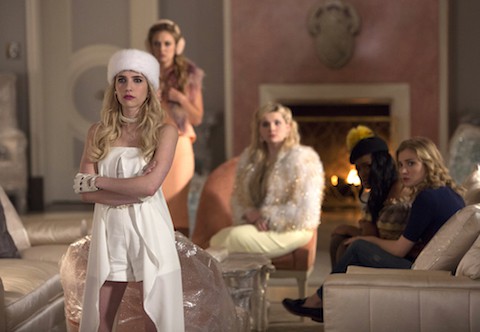 Elsewhere on campus, Boone (Nick Jonas) is still strolling around in Joaquin Phoenix disguise. He's spotted by Chanel No. 3 (Billie Lourd), but, lucky for him, she thinks he's a ghost. "The Ghost of Gay Dead Boone" seems like a better disguise than Joaquin Phoenix (or at least less itchy), so Boone starts appearing to others, claiming to be a visitor from the great beyond. He asks his bro Chad to borrow his date shirt and then appears to Zayday to woo her. That's right. On a show just chock full of unnecessary and ridiculous plot twists, Boone faking being gay may be the most unnecessary and ridiculous.
Apparently, he was the Red Devil that kidnapped and attempted to romance Z back at the haunted house. Now, his plan involves first killing Earl Grey (Lucien Laviscount) — a character that served almost no purpose whatsoever, not even an entertaining caricature like the other Kappa pledges/murder fodder — and then trying to seduce Zayday. She's no dummy, so she's not buying the whole ghost routine. She and Grace immediately piece together that he faked his own death and is one of the killers.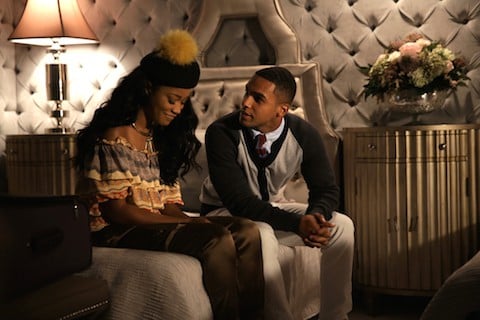 We get all that and more confirmed when Boone and the other Red Devil confront Gigi (Nasim Pedrad). Boone is fed up taking orders. He's the one who pretended to be gay. He's the one who learned how to slow his heart and breathing to fool a coroner. He's the one who studied theatre makeup to fake his neck slash. As he and the Red Devil march toward Gigi, the Red Devil turns on Boone, stabbing him in the chest. R.I.P. for real, Boone.
We got confirmation that there were two babies born that night in the bathtub — a boy, and a girl. Boone's the boy, and his sister is behind that mask. But who is it? I'm torn between Chanel No. 3 (whose father might be Charles Manson, but her mother is anyone's guess) and a not-quite-dead-yet Chanel No. 6.
Who do you think is the killer?