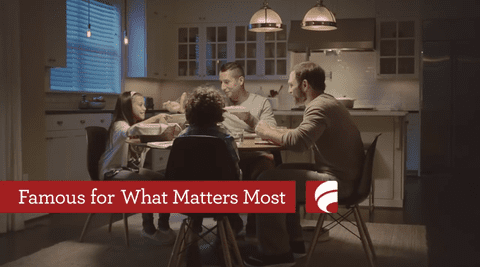 A new family-focused commercial from shoe retailer Famous Footwear puts two gay dads and their kids front and center.
The ad titled "Family dinner, a time to reconnect" shows two dads sitting down with their son and daughter for dinner. Before dinner can begin one dad collects everyone's electronic devices. While the daughter gives up her cell phone, both dads look at her knowingly as if to say "hand over the other device." She then turns over a tablet she has hidden beneath her chair.
The commercial ends with a banner that reads, "Famous for what matters most", shown as the family begins to enjoy their meal.
The description for the ad on YouTube says, "Time to put away the digital distractions and reconnect with what matters most…family."
Watch the spot, below:
https://www.youtube.com/watch?v=8YCdHrfMnSU&feature=youtu.be