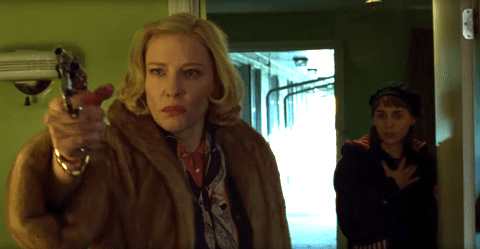 A new trailer and two new clips from Todd Haynes' adaptation of Patricia Highsmith's Carol show a great deal of new footage.
Starring Cate Blanchett and Rooney Mara, Carol tells of a soon-to-be divorcee (Blanchett) who befriends and falls in love with a young shop girl (Mara) in 1950s New York. The film opened on Friday and is currently playing in select theaters nationwide. It has been getting high acclaim from film critics and was named a critic's pick by The New York Times.
Carol is not director Haynes' first foray into the territory of queer costume dramas, having directed Far From Heaven in 2002 which saw actor Dennis Quaid explore the underground world of gay life in 1950s Connecticut.
While the new trailer evokes the mood of the film, the two new clips show a scene between Sarah Paulson and Cate Blanchett discussing their love lives and a scene where Blanchett and Mara embark on their romance.
Watch both clips and the new trailer, below:
https://www.youtube.com/watch?v=bF1YIF_FknI
https://www.youtube.com/watch?v=VDg6Kaawb88
https://www.youtube.com/watch?v=5syeZtqaEg0