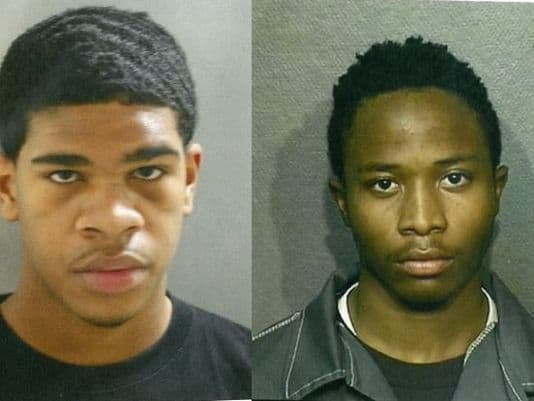 A gay man's alleged killer is on the loose and considered highly dangerous after escaping from a juvenile detention center in Houston.
Alferis Coby (above right), 16, is charged with capital murder in the death of 22-year-old Carlos Ramirez, who was fatally shot in the parking lot of F Bar, a popular gay club, in March.
Coby, who reportedly has psychopathic tendencies, escaped along with two other juveniles early Sunday.
From The Houston Chronicle:
"I'm worried not only about what he is capable of, but his very demonstrated lack of empathy to other people," said 315th State District Judge Michael Schneider, who certified Coby to stand trial as an adult in October. "I usually don't like to talk about kids in our juvenile system, but this is a dangerous kid. I am really worried he is out."
Authorities said Coby asked for toiletries and then overpowered a guard who opened his cell door to provide them. Coby took the guard's keys and phone and unlocked two others. The boys, all 16, slipped undetected through the lock-up, then somehow get buzzed through a security door leading to Caroline within 15 minutes.
Some of the detention-center issued white T-shirts and blue shorts the teens were wearing were found a few blocks away.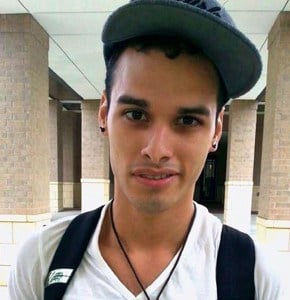 According to the Chronicle, a court-ordered evaluation determined that Coby has an exceptionally high risk for violence, aggressive tendencies, psychopathic features and extensive criminality.
Ramirez (right) was leaving a talent show at F Bar when Coby and another suspect robbed him, shot him and stole his car after he refused to turn over the keys. The suspects were later found driving Ramirez's vehicle.
Ramirez's murder was one of several violent crimes in the city's gayborhood this spring that led to a "Take Back Montrose" rally and meetings between LGBT activists and police.
Authorities identified one of the other teens who escaped Sunday as Jahrell West (above, left), who faces charges of aggravated robbery and home burglary. The third teen has not been identified because he hasn't been certified to stand trial as an adult.
Anyone with information on the escapees' whereabouts is asked to call Crime Stoppers at 713-222-8477.