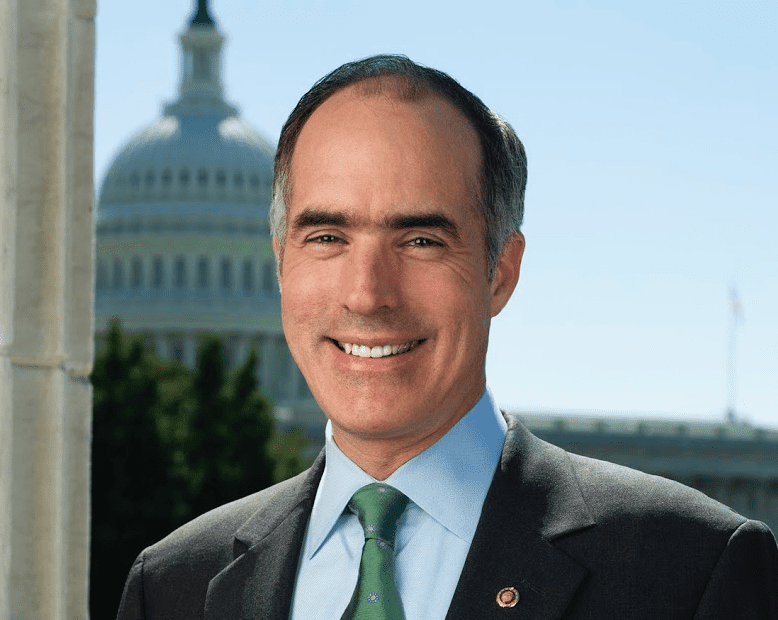 Fearing they'd never be able to legally marry, some older gay people have chosen to adopt their partners to preserve legal rights such as inheritance and hospital visitation.
Now that nationwide marriage equality has arrived, some of these couples find themselves in legal limbo, according to U.S. Sen. Bob Casey, D-Pennsylvania, unable to annul their adoptions so they can obtain marriage licenses.
In 25 states including Pennsylvania, according to Casey (above), a marriage between a parent and an adopted child is considered incest, punishable by up to 10 years in prison.
Casey penned a letter Monday to U.S. Attorney General Loretta Lynch, calling on the Department of Justice to issue guidance to courts on cases where one partner in a same-sex relationship has adopted the other. He points to the case of Nino Esposito and his adopted son, Roland Bosee Jr., in Allegheny County, Pennsylvania.
Esposito and Bosee, who've been together since 1970, sought to have their 2012 adoption annuled after same-sex marriage became legal, but a judge refused, according to The Pittsburgh Post-Gazette. The judge said adoptions are typically annulled only for fraud, and that allowing the annulment could jeopardize adoption decrees in general.
But attorneys for the couple say the judge's decision runs contrary to Obergefell, because it denies the couple their constitutional right to marry. They also say the best interests of the child — in this case, Bosee — should be paramount in adoption cases.
The couple has since appealed the decision to the Pennsylvania Superior Court. In another Pennsylvania case, a same-sex couple successfully annulled their adoption and obtained a marriage license, according to Casey.
"LGBT couples should have the right to obtain a marriage license, no matter the state or jurisdiction in which they reside," Casey wrote to Lynch. "As you know, Justice Anthony Kennedy described the request of same-sex couples in Obergefell as 'equal dignity under the law.' In adoption cases such as these, the law has changed dramatically since the adoptions were first carried out. To ensure the dignity of all LGBT couples is affirmed no matter their current adoption status, we must ensure that all parties know their options under the law."
The Post-Gazette reports that it's unclear what impact the Department of Justice could have on the case.
Read Casey's letter to Lynch below.
https://www.scribd.com/doc/288248896/151102-DOJ-Gay-Adoption-Letter