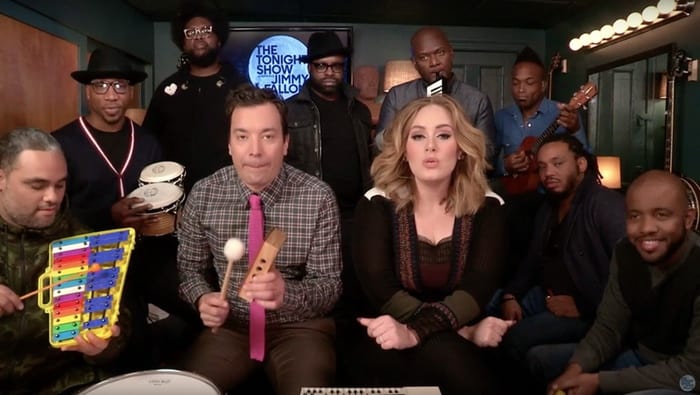 One leftover from Adele's Tonight Show appearance has made it to the internet, and it's a performance of the megahit "Hello" with Jimmy and The Roots on classroom instruments.
"Hello" just broke the single-week U.S. album sales record held to this point by 'NSYNC.
After processing the first sales reports from Monday, Nov. 23, the album has already sold at least 2,433,000 in pure album sales in slightly more than three days. That sum beats the single-week record for an album since Nielsen began tracking sales in 1991, set by *NSYNC's No Strings Attached, when it debuted with 2,416,000 in the week ending March 26, 2000.
When a song's this big it just reverberates across the culture, and you can be sure we won't be hearing the end of it for a while. In fact you'll probably be hearing three or four more versions today alone, but this one's a pleasantly low-fi experience, and even includes a flip phone!
Watch: