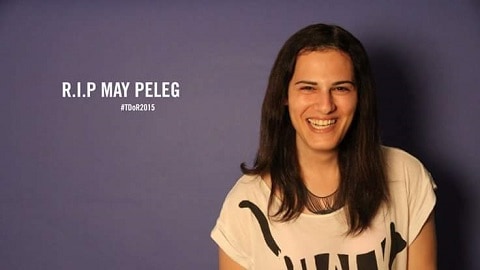 Israel's Supreme Court has rejected a suit from the family of late transgender activist May Peleg challenging her instructions that she be cremated.
Peleg, who was chair of the Jerusalem-based LGBT activist group Open House, committed suicide earlier this month following a sexual assault, a disagreement over access to her children and a long struggle with illness.
Although she had made her wishes clear, Peleg's Orthodox mother fought for control of her corpse because she wanted her daughter buried as a male in a traditional Jewish ceremony.
Peleg had written to attorney Yossi Wolfson:
"Since I have no contact with my biological family and since I fear that after my death there will be those who try to obstruct my final wish to be cremated, using various arguments, I ask you to represent me in court and be my voice."
According to Haaretz, her mother wrote:
"I'm from an Orthodox family and my son's burial is very important to me. I ask that his body not be cremated or transferred to any agency wishing to do so. I ask to be given the body for burial according to Jewish law."
After her suit was rejected by a lower court, Peleg's mother appealed to the Supreme Court which ruled that "the basic law on human dignity and liberty puts the wishes of the deceased at center stage."
"We do not come to judge the wishes and the way of May Peleg, but only to honor them," said Judge Anat Baron.
(Image via Facebook)