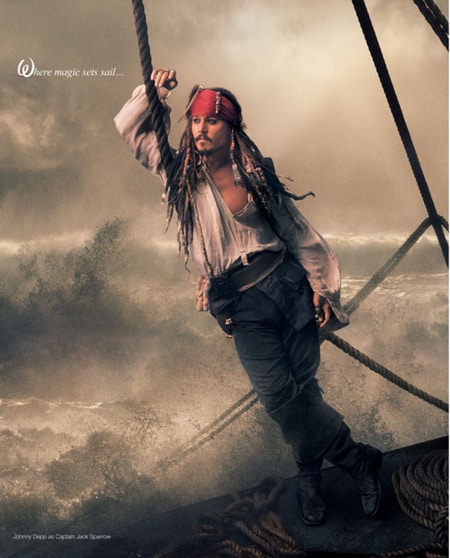 Speaking at the American Film Institute (AFI) Festival on Sunday night in Los Angeles, actor Johnny Depp doubled down on past remarks he made about all the characters he plays being gay, especially Captain Jack Sparrow from the Pirates of the Caribbean films.
Depp recounted the well-documented story that he was almost fired from the set of the first Pirates of the Caribbean movie because his outlandish performance as Jack Sparrow initially had Disney executives worried.
"It trickled back to me somehow that, 'Goddammit, Johnny Depp's ruining the film! What is that thing? Is it drunk, is it gay?"
Depp recalled a specific meeting with someone from "the upper echelon of the studio". "'What the f[*]ck are you doing?'" he remembered the person asking. "When they asked if it was gay, I said: 'Didn't you know all my characters are gay?'"
Back in 2010, Depp recounted Disney execs' freak-out over Sparrow's "gayness", saying,
"They couldn't stand him. They just couldn't stand him," Depp says of Disney's reaction to his controversial interpretation of Sparrow. "I think it was Michael Eisner, the head of Disney at the time, who was quoted as saying, 'He's ruining the movie.' Depp reveals to Smith, however, that he remained unfazed by the studio's hysteria. "Upper-echelon Disney-ites, going, What's wrong with him? Is he, you know, like some kind of weird simpleton? Is he drunk? By the way, is he gay?… And so I actually told this woman who was the Disney-ite… 'But didn't you know that all my characters are gay?' Which really made her nervous."
Depp was nominated for an Oscar for his portrayal of Captain Jack Sparrow in 2003's Pirates of the Caribbean: The Curse of the Black Pearl.