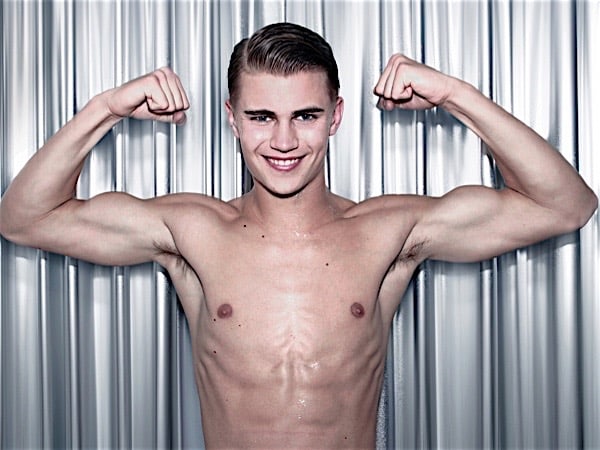 MALE MODEL MONDAY: Sam Harwood.
HATEMONGER: Family Research Council's Tony Perkins uses President Obama's opposition to gay conversion therapy to bemoan the end of the world as we know it, raise money: "In fact, this President intends to get as many American children into the funnel of the sexual revolution as possible and make sure there's no possible escape—none whatsoever. He intends to close off every avenue from parents committed to biblical morality. We cannot stand by and allow the President to force his radical sexual agenda on our children."
BLACK FISH: Sea World says it will end its killer whale shows next year: "In its place would be a new orca experience debuting in 2017, described as "informative" and designed to take place in a more natural setting that would carry a 'conservation message inspiring people to act.'"
CRAZY EYES: Michelle Bachmann wants to convert as many Jews as possible because Jesus is "coming soon": "This week really was about biblical prophecy in many ways. And we're seeing as events are speeding up, events are speeding up so quickly right now, and we see how relevant the Bible is, and we're reading our newspaper, at the same time we're learning about these biblical events, and it's literally day by day by day, we're seeing the fulfillment of scripture right in front of our eyes, even while we're on the ground. We recognize the shortness of the hour. And that's why we as a remnant want to be faithful in these days and do what it is that the Holy Spirit is speaking to each one of us, to be faithful in the Kingdom and to help bring in as many as we can — even among the Jews — share Jesus Christ with everyone that we possibly can because, again, He's coming soon."
HIV/AIDS: A bi-monthly injection could replace daily pill regimes to suppress HIV according to a new study from Johnson & Johnson: "The mix of J&J's rilpivirine and cabotegravir, from GSK's HIV unit ViiV Healthcare, proved just as good as taking three daily pills at maintaining minimal viral levels in HIV-infected patients when given either monthly or every two months. Patients getting injections every month had viral suppression of 94 percent after 32 weeks, while the suppression rate was 95 percent for those receiving treatment every eight weeks. By comparison, patients on tablets had a suppression rate of 91 percent."
NON-PROFIT: Head of Ford Foundation says it will be pulling back from charitable LGBT projects.
INTERNATIONAL: Catalonia votes to separate from Spain: "Catalonia's regional assembly on Monday passed a resolution calling for secession from Spain, energizing a drive towards independence and deepening a standoff with central government in Madrid. The declaration, which pro-independence parties in the northeastern region hope will lead to Catalonia seceding within 18 months, was backed by a majority in the regional parliament."
MUSIC: Adele delivers shiver-inducing performance of "Hello" at NJR Awards in Cannes, France.
TERRORISM: Russia may actually believe Metrojet crash was caused by a bomb despite its previous public resistance to such a theory: "Russian communications intercepted by U.S. intelligence agencies showed Russia believed the plane that crashed in Sinai, Egypt, on Oct. 31 was brought down by a bomb, U.S. sources familiar with the matter said on Monday. The intercepts are among pieces of evidence leading U.S. officials to suspect that a device planted on Metrojet Flight 9268 exploded shortly after the Airbus A321 took off from the resort city of Sharm al-Sheikh, the sources said."
BROTHERS: Fraternity files defamation suit against Rolling Stone magazine for $25 million: "The fraternity that was the focus of a debunked Rolling Stone article about a gang rape filed a $25 million lawsuit against the magazine Monday, saying the piece made the frat and its members 'the object of an avalanche of condemnation worldwide.' The complaint, filed in Charlottesville Circuit Court, also names Sabrina Rubin Erdely as a defendant. It is the third filed in response to the November 2014 article entitled 'A Rape on Campus: A Brutal Assault and Struggle for Justice at UVA.' Three individual fraternity members and recent graduates of the University of Virginia are suing for at least $225,000 each, and a university associate dean who claims she was portrayed as the 'chief villain' is suing the magazine for more than $7.5 million.
TRANS IS BEAUTIFUL: Eddie Redmayne and Laverne Cox meet at screening of The Danish Girl. 
ICYMI: Ben Carson has a painting of him and Jesus in his home.