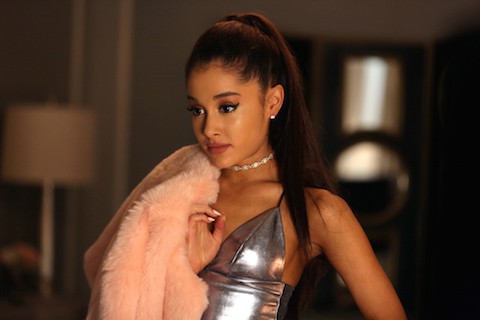 Welcome back! Now that the World Super Ball Cup or whatever is over, it's time to get back to the mystery of who's killing co-eds on Scream Queens.
Unfortunately, tonight's returning episode was less than exciting. For starters, there were no appearances from our menacing Red Devils, but that doesn't mean there wasn't any bloodshed. This time, however, we know who the killer is.
Tonight's episode not only felt a little disconnected from the season's more pressing mystery, but it also kept most of our central characters isolated or off-screen. Where was Zayday (Keke Palmer)? Where was Denise (Niecy Nash)? We only had some brief time with Chad (Glen Powell), and it's clear the Chanels are much more fun when they have other folks like the Dean (Jamie Lee Curtis), Grace (Skyler Samuels) or our ragtag group of pledges to play off.
Let's discuss the latest happenings and theories in our SPOILER-filled recap of last night's episode "Beware Young Girls," below.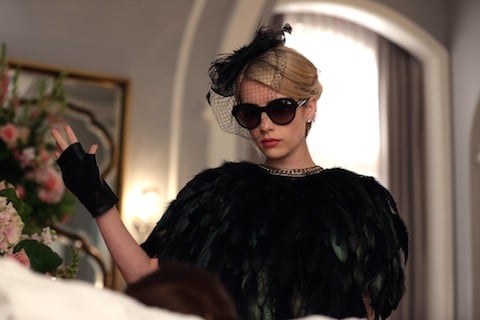 If I've learned anything about sorority life from this show, it's that it's just one big slumber party. There's been Seven Minutes of Heaven and Spin the Bottle in previous episodes, but this time we break out the classic Ouija board. ("Didn't you see the movie?" "The movie Ouija? No. No one did.")
After a bitter eulogy for Chanel 2 (Ariana Grande), Chanel Prime (Emma Roberts) and her minions come together to contact their late sister from beyond the grave. In their first session, No. 2 tells them that Chad is cheating.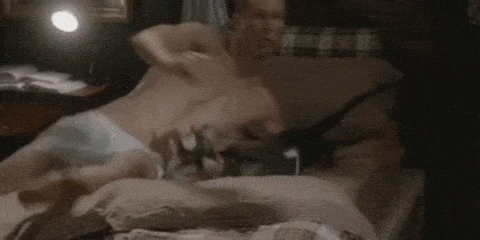 This predictably sends Chanel No. 1 into a frenzy. She marches right to Chad's room and finds him in bed with a goat. Yes, a goat. But, you guys, it's not what you think. He's merely lovingly caressing the goat to coax some sweet, sweet goat's milk out because he is lactose intolerant. God, Chanel, you're so thoughtless!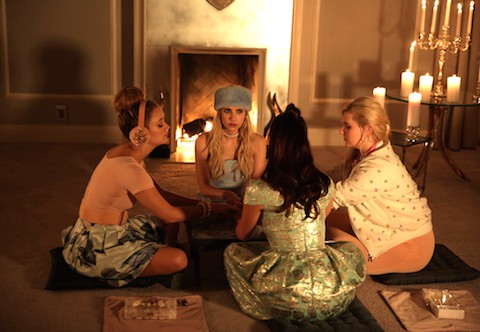 Back at the board, the Chanels receive another message from No. 2. This time, she first proves she's the real deal by accurately guessing the number of tampons Chanel No. 6 (Lea Michele) has in her purse. Then, she claims No. 1 is the killer terrorizing campus.
The other Chanels are quick to turn on their leader. Again. (Worst. Minions. Ever.) They realize their best bet is to kill Chanel No. 1 before she gets the chance to kill them. Unfortunately, they're minions for a reason, and they fail to settle on a way to assassinate the KKT co-pres.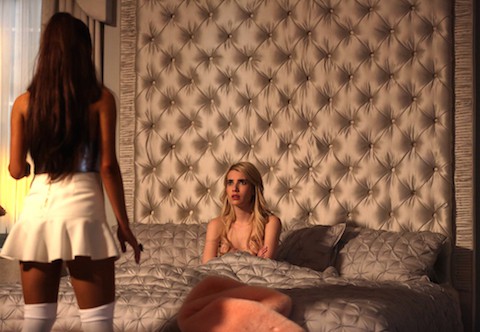 While they're plotting, Chanel is visited in her sleep by Chanel No. 2. The late sister gives her some pretty great intel on hell ("Zero dinosaurs … As soon as I got there I was like where are the dinosaurs? And they were like, 'We know, Jesus broke in and stole them'"), but she's got a reason for appearing to Chanel No. 1 now. She needs to make peace with Chanel No. 1 so she can get out of hell. She apologizes for sleeping with Chad, for lying about him cheating and for lying about her being the killer. To make it up to her, she tells Chanel Prime that the other Chanels are planning to kill her.
With that warning, Chanel No. 1 takes the high road. Instead of killing them first, she confronts her sisters and lets them know she's hip to their plan. Now she's got a gift for them. It's a Nancy Drew-style hat (nice callback to one of Roberts' earlier roles) and magnifying glasses. They're going to work together to find the real killer. And they're starting with Zayday and Grace.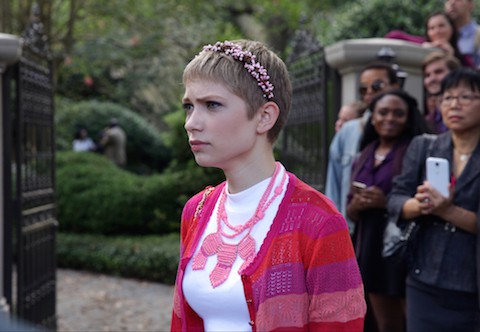 Meanwhile, Gigi (Nasim Pedrad) is busy cooking up some coq au vin when she gets a mysterious phone call. It's one of the killers. A few clues here: She tells them they were once someone she loved; that they are killers, not kidnappers; again reiterates "he" has to go; and she calls their killings a revenge plot that took years to put together.
Later, she's getting a contemporary makeover from Grace when she casually lets it drop that maybe she and Pete (Diego Boneta), the Woodward to Grace's Bernstein, should look into a former student, Feather McCarthy (Tavi Gevinson). They track down the former student and hear her sordid tale.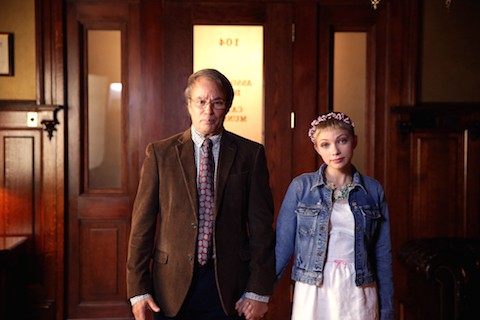 She was a student in Dean Munsch's ex-husband's Beatles class back when the Munsches were still married. They fell in love, leading to Professor Munsch leaving then Associate Dean Munsch. Of course, the Dean did not take this well. She started showing up wherever Feather was, dressed exactly like her. Creepy! She eventually drove Feather out of Kappa House and off campus. So, if Grace and Pete are looking for a suspect in any sort of heinous crime, it's probably Munsch!
When Feather gets home to Prof. Munsch, she finds bloody arrows and severed body parts leading to decapitated head of her older lover bobbing in a fish (called Wanda) tank.
Detective Chisholm (Jim Klock) and his squad blame Dean Munsch for the murder and haul her off to the asylum. And if she's capable of this terribly brutal crime, she probably did all the other recent murders, too. All the cases closed!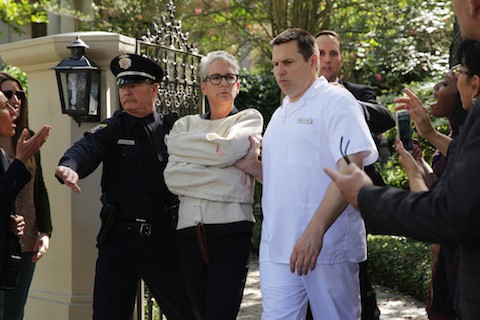 Obviously, it's not the simple. Munsch gets Pete and Grace to visit her in the mental hospital in hopes she can convince them Feather was behind the murder. That's when lunch is served and the Dean freaks out at the attendant that — PAY ATTENTION — she can't eat bologna, or she'll go into anaphylactic shock! Anyway, if they help her investigate what "really" happened to her ex-husband, she'll tell them what happened with that baby 20 years ago. Also, while they're there, they see a woman painting. Apparently — PAY ATTENTION — she paints all the inmates. She hands them a painting of themselves, which makes her quite the speedy artist, no?
It's not hard for them to convince the police dum-dums to hand over all the crime scene photos, and soon Grace and Pete spot a BOLOGNA SANDWICH amongst the evidence. But, wait! Dean Munsch can't have bologna! She's innocent! To be sure, they break into Prof. Munsch and Feather's home, snag Feather's toothbrush, and voila! The DNA on the toothbrush matches the bite taken out of the bologna sandwich.
So, Munsch is let out of the asylum and Feather is brought in. However, over a glass of wine later, Munsch confesses to the audience, that HA HA, she for sure DID kill her ex-husband, which she was now able to conveniently pin on Feather and lump in with the recent string of murders.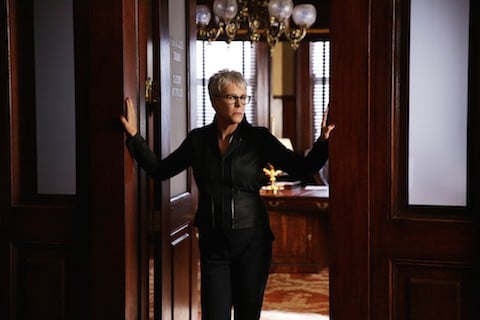 What do you think, readers? If Munsch is capable of that sort of sick slaying, could she also be one of our Red Devils? I still think no. If this is a revenge plan, it makes more sense for Gigi to be working against Munsch, not with her. Maybe Munsch is just an opportunist and smart enough to stay one step ahead of her adversaries. (A true Kappa gal if there ever was one.)
Gevinson was an interesting addition to the mix. As the music choice at the end of the show confirmed, her character was a direct reference to Mia Farrow (and not just because of the similar pixie cut). The closing tune shares the same title as this episode, "Beware of Young Girls." The song was written by Dory Previn from a mental institution after she suffered a breakdown upon learning her husband was leaving her for Farrow.
Sure, that's a great little Easter Egg, but I'm more interested in one lyric in particular. The clip that we hear says, "Beware of young girls, Who come to the door, Wistful and pale, Of twenty and four, Delivering daisies, With delicate hands." Now, I've said it before, and I'll reiterate here. Zayday feels like a very specific name, and also sounds A LOT like Daisy. Maybe I'm crazy, but in addition to lyrics from the song that closed the show, what tune was playing when we visited the asylum? "Daisy Bell." (Oh, and how about this coat Zayday was wearing a few episodes back? Or this floral crop top?) It's a little too coincidental, don't you think? There's a Daisy somewhere in this story, and I bet you she's connected to our girl Z.
Speaking of the asylum, how about that painter? What do you wager she's got a portrait of Gigi somewhere? Also, she did paint that picture of Pete and Grace pretty fast, didn't she? I can't quite put my finger on it, but I feel like there's a chance that's not actually supposed to be both of them in that painting, or maybe it's not the first visit to the asylum for one of them.
Share you wild speculation and theories in the comments.