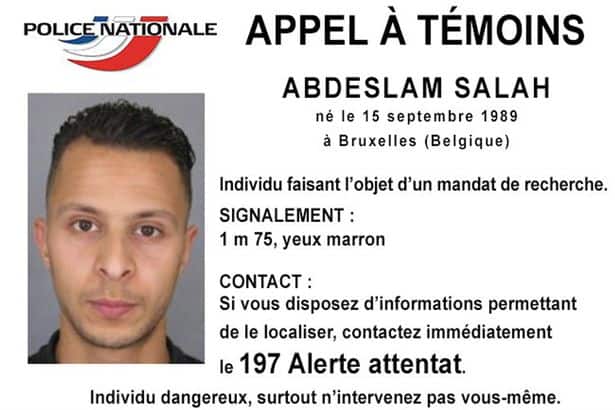 Salah Abdeslam, a fugitive terrorist currently being hunted by special forces over the coordinated terror attacks in Paris on Friday, was a regular visitor to the gay village in Brussels, Belgium. It's not clear why.
Abdeslam was the driver for one of the suicide squads.
Security services are scouring hours of CCTV footage taken from bars in central Brussels, in an area known as "Jacques Quarter".
Counter-terror agents have been questioned bar owners after the extremist was spotted on a number of occasions at the end of October in the city's vibrant homosexual quarter. Officers are working to determine if he was scoping a target for an attack or was there to steal identification documents.
Abdeslam was seen in the Brussels neighborhood of Molenbeek as recently as Tuesday, according to a contact who spoke with The Mirror.
The paper also says that Abdeslam, who was radicalized in 2011 after being fired from a job as a bus driver, spent lots of time gambling in Brussels and was known for having many one night stands with women.
Flyers displaying his face are posted in every town in France. Investigators believe, however, that Abdeslam – the "eighth attacker" in the Paris massacres – may also be on the run from Isis. A Belgian website has reported that the only identified Black Friday attacker still alive approached a friend in Brussels on 17 November. He said he regretted his part in the attacks, which had "gone too far".
He added that he dared not give himself up – as his brother has urged – because he feared Isis would take revenge against his family. Although based on the evidence of one unnamed source, this account fits the growing conviction of investigators that Abdeslam panicked on 13 November and did not complete the savage tasks, including his own "martyrdom", allocated to him by Isis.
Abdeslam reportedly wandered Paris for hours after the attacks and then fled to Belgium after calling friends from a cell phone asking for someone to come get him:
Half an hour earlier, at around 10pm, he had dropped his older brother, Ibrahim, on boulevard Voltaire, near the Bataclan. Ibrahim, a small-time criminal and Brussels bar owner, with vague links with radical Islam, immediately blew himself up outside the Comptoir Voltaire bar. He caused no more than minor injuries to passers-by.