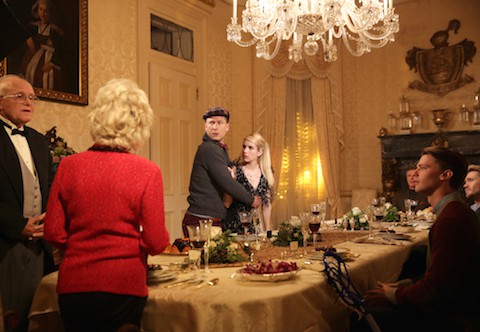 Ah, the holidays are upon us and I, for one, am thankful for the latest episode of Scream Queens. The Thanksgiving-themed installment gives us a glimpse into the home lives of two of the series' most enjoyable characters while dropping quite a few juicy giblets about the ongoing mystery.
While it still gleefully runs off the rails into nonsense territory and will undoubtedly leave many threads unresolved (Why did Boone need to pretend to be gay? Why would anyone ever care about Earl Grey?), the series still feels more focused and tight than American Horror Story, which feels more and more like several shows crammed into each season. Granted, that's not a high bar to aspire to, but it makes my weekly visit to Wallace University more enjoyable.
It's certainly more enjoyable than what our characters are facing. Let's stuff ourselves on this week's SPOILER-filled recap and give thanks that our holiday will (hopefully) go a lot more smoothly.
It's easy to forget that, despite being one of the most enjoyable characters on the series, Chad Radwell (Glen Powell) is probably not from the most pleasant home. After all, this is the guy who reacts to news of Hester (Lea Michele)'s death with excitement at the thought of a threesome with her dead body. It's not like Chanel Oberlin (Emma Roberts) is such a model of decency, but even she was no match for the sheer awfulness of the Radwell clan.
She gets to accompany Chad to the Radwell compound for Thanksgiving, but, surprise!, it's not all she thought it would be. From the beginning, his brother Thad (Patrick Schwarzenegger) is a pervert. Older brother Brad (Chad Michael Murray, in the role he was born to play) is a douche. Even his mother, Bunny (Julia Duffy), is particularly awful. She is constantly questioning Chanel's pedigree and quick to remind Chad that there are plenty of other fish in the sea.
It only gets worse from there. Guess who else is coming to dinner? A very not-dead Hester. As suspected, her neck brace saved her spine, while lying unconscious on the concrete floor of the meat locker reduced swelling and had her waking up feeling better than ever.
Much to her chagrin, even her reveal that she's pregnant with Chad's baby is met with little but disdain from Bunny. She reminds Hester that they've got lawyers on retainer just to fight spurious paternity charges. The rest of dinner is just full of little disses on Chanels No. 1 and 6, culminating in what Chanel Prime describes as "the most mean-spirited game of Pictionary in the history of Pictionary." Someone (*cough*Bunny*cough*) changed the card for "Horse" into "Neckbrace Whore."
The relentless attacks are too much for Chanel, who sticks up for Hester and storms out of the Radwells' home.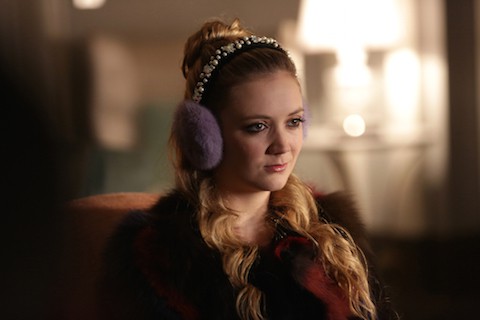 Things aren't much better for Chanel No. 3 (Billie Lourd), whose TV-dinner magnate family is spending Thanksgiving sitting in two rows of recliners watching six televisions and eating their meal on TV trays. (At least they're keeping it on #brand.) No. 3 is fed up with her family not showing any real concern for the fact their daughter's sorority is the target of a serial killer. She, too, storms out in a huff and finds herself back at the Kappa house.
Upon her arrival she finds Dean Munsch (Jamie Lee Curtis) using the house facilities to cook a Thanksgiving turkey. They're eventually joined by Chanel No. 5 (Abigail Breslin), Zayday (Keke Palmer) and Grace (Skyler Samuels), who eventually also invites her sad dad (Oliver Hudson). Soon, accusations are flying and everyone thinks everyone else is the killer.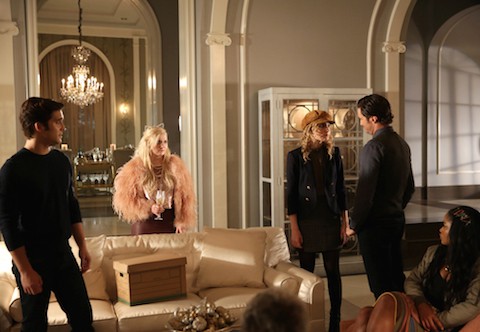 Let's run through their logic.
Dean Munsch thinks it's Chanel No. 3, on account of her dad being Charles Manson and the fact she spotted her hustling around the house the night the Devils attacked with chainsaws. For what it's worth, it's interesting that we got to spend so much time with her family and note that her father doesn't care too much for her. It makes sense since he's not her real dad, but what if Charles Manson isn't either? What if she's one of the bathtub babies? Still, I'm keeping No. 3 in my "not likely" pile for now.
No. 3 has her own theory: It's Dean Munsch! When she mistakenly chews on some Spam-laced stuffing and sips red wine, her bologna allergy farce is exposed. Yes, she killed her ex-husband for sure, but that doesn't make her also one of the Red Devil killers. She's probably not the killer, but she is my new idol for having a bologna sandwich and Playgirl date all by herself. Girl, do you.
Daddy Wes surprises the room by accusing his own daughter of the crimes. She's the only one who knew of the existence of the surviving girl from 1995 and then she ended up dead. Plus, Grace was visiting campus the day when the last KKT president got that acid spray tan. Very suspicious!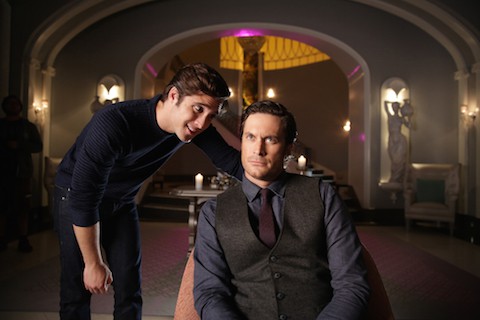 But here's investigative journalist Pete (Diego Boneta) with a shocking revelation! He has proof that Wes is Boone's dad! Which, everyone assumes, means he's the father of Boone's "twin" "sister." Which means he's the father of the remaining killer. Also, Wes was at a party in the KKT house's secret tunnels, so he would know exactly how to get in and out. I don't know. While I think Wes is all-around very creepy, his relationship with Gigi (Nasim Pedrad) makes me think he's not in on the big revenge plot.
Chanel No. 1 and Hester return home to KKT, followed soon by Chad Radwell (more eager for turkey than he is to race back to Chanel). Now, all our major players are back at the house, racing in and out of the kitchen, preparing the table, checking on the turkey. They take their seats, remove the cover from the turkey to reveal, not a perfectly cooked bird, but the severed head of a very dead Gigi!
OK, guys, a few more things worth discussing. That flashback of Grace visiting KKT the day of the spray tan incident? She was wearing a sweatshirt with a big red R on it. Also, if she was visiting campus around that time, it's likely other freshmen like Zayday and Hester were as well. Speaking of Zayday, she was checking on that turkey an awful lot throughout the episode. It's a bit suspicious.
I also want to call out two lines of dialogue that feel a little purposeful. The first is when Hester describes "roasted flesh" at the end of the episode, mirroring a brief scene between Gigi and the Red Devil earlier. (She may be my most likely suspect at this point.) Then there's Pete describing an "orgy of evidence," which is terminology used by Detective Chisholm (Jim Klock) when he originally arrested Munsch for killing her ex. It could just be a call back, or it might be a clue that Pete has an in at the police that he's been using to plant evidence and throw people off his own scent.
There was also suspiciously little attention paid to Chanel No. 5. She's one of the most erratic and strange characters on this show (though that could just as easily be attributed to bad writing or acting). We never saw her failed Thanksgiving and she had the strongest (and strangest) reaction to Boone wanting to join their sorority. Maybe a little sibling jealousy?
The only person I feel fairly confident ruling out at this point is Chanel No. 1. But, this is a wild, unpredictable, and often nonsensical Ryan Murphy show, so it's really a fool's errand to try and logically make educated guesses about anything.
Who do you guys think will be the remaining Red Devil?