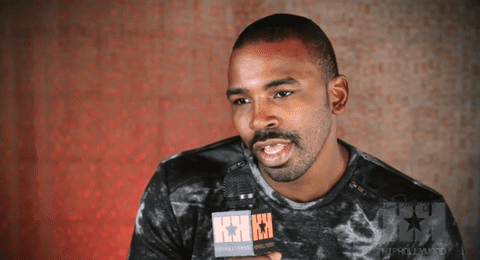 In a new interview, pro boxer Yusaf Mack says he is attracted to "trannies" and that he was inspired to come out as gay by Caitlyn Jenner.
Mack was the center of much media attention after appearing in a gay adult film and claiming he was drugged into it by the film's producers. After the film's producers fired back at Mack, Mack confirmed that he had willingly agreed to do the gay film and that he was bisexual. Mack then came out as gay. 
Speaking with HipHollywood, Mack said, "When I seen Bruce Jenner did it [come out], I said, if he can do it, I can do it."
After breaking up with his female fiancée of five years, Mack now says he wants to date "trannies" and that he is not attracted to men who have a similar muscular body type as himself: "My interest is trannies…I love trannies…I'm attracted to trannies…I don't like nobody muscle like me."
Also in the interview, the 35-year-old Mack spoke about his journey towards self-acceptance:
"It was like that man in me that I didn't want anybody to know. I'm over it now though. I'm living my life and I'm happy…I don't gotta explain to nobody but my children and my family…It's my life and it is who I am. It's my truth. I gotta live with that, nobody else does."
Of the strain his coming out put on his family, Mack said his daughter took it the hardest:
"[She] said, 'Kill yourself. You're an embarrassment to our family. Then she apologized and we cried. I didn't want to hurt nobody. I didn't want my kids to look at me different."
Mack is a father of ten.
Mack's former fiancée has reportedly been the most accepting: "She was like, 'You gonna be you and I'm gonna love you regardless,'" he said.
Watch HipHollywood's interview with Yusaf Mack below: