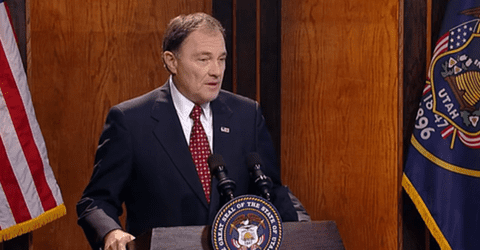 At a news conference on Thursday, Utah Governor Gary Herbert weighed in on the case of a judge who ordered a child removed from the care of gay foster parents because of supposed "research" (which he did not provide) that allegedly proves the child would be better off with heterosexual parents.
Addressing the controversy, Herbert said the judge should "follow the law."
"I'm a little puzzled by the action down there personally," Herbert told reporters at his monthly news conference on KUED. […]
"I expect the court and the judge to follow the law. He may not like the law, but he should follow the law. We don't want to have activism on the bench in any way, shape or form. Laws, sometimes people don't like, but the judge should not interject his own personal beliefs and feelings and supersede the law," Herbert said.
A spokesperson for Utah Attorney General Sean Reyes said, "Our office currently is reviewing the court's order and consulting our client."
Previously, both Herbert and Reyes tried to stop same-sex marriage from becoming enacted in Utah, though ultimately gave in after SCOTUS' ruling in Obergefell v. Hodges.
Watch video of Herbert's news conference below from KUED: