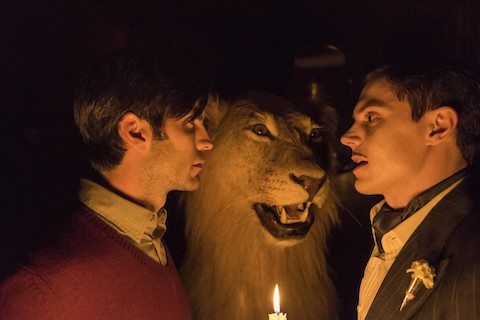 Well, well, well. After our last episode's strange exploration of the alternative history of Rudolph Valentino, we return with a tightly focused tale that clearly laid out an explanation for one of the season's biggest mysteries. It's as if Ryan Murphy heard my American Horror Story: Hotel prayers. For a show that loves throwing a million characters and storylines together with reckless abandon, this was an excellent, purposeful thrust forward for this season's narrative.
Find out who's been responsible for those Ten Commandments killings (and mercifully little else) in our SPOILER-filled recap, below.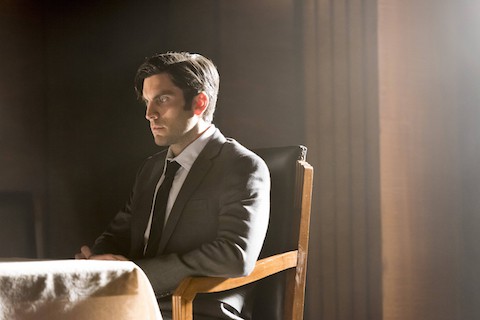 We join Detective John Lowe (Wes Bentley) at the scene of Wren (Jessica Belkin)'s death. She's dead, and he is so upset. As he glances at her lifeless body in the road, he gets a flash of memory of her sleeping in a glass coffin in the empty pool of the Hotel Cortez.
He returns to the Cortez, furious. First, he accosts Liz Taylor (Denis O'Hare), but it's Sally (Sarah Paulson) who gives him answers about the Ten Commandments Killer.
She takes him to a trophy room in Room 64 full of assorted body parts from the victims, including those from the murders of the migrant workers from way back when. He wonders what kind of killer takes nearly a century off. "Oh, honey …" Sally seems to sigh heavily. Then Lowe is perplexed by how the killer snuck into the hotel while he was staying here. Sally appears to want to huff and roll her eyes. Plus, he considers, how did the killer get these body parts when he was the one who checked them into evidence himself?
BECAUSE, YOU DUMMY, THE TEN COMMANDMENTS KILLER IS YOU. YOU, JOHN LOWE. DON'T YOU READ THE INTERNET? Sally explains to John in a much gentler way.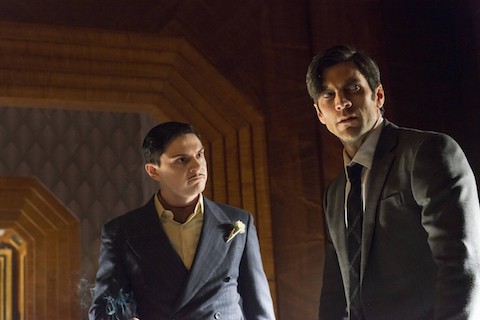 Armed with this new devastating information, John finds his partner Detective Hahn (Richard T. Jones) to confess. Hahn doesn't believe him, but Lowe is like WHOA HO, pull up a chair, buddy, because I've got at least 45 minutes of exposition to share with you!
It all began when he first visited the Cortez, which actually occurred five years ago. Remember that time he blacked out after a troubling case and then Holden (Lennon Henry) got taken when he returned? Well, turns out, on the night he blacked out, his bender led him to the Cortez.
There, he was spotted by Donovan (Matt Bomer) and paraded up into Gaga and James Patrick March (Evan Peters)'s monthly dinner. March can sense the darkness in Lowe and, over the course of a two-day absinthe binge, he and March tossed around platitudes about wanting to dispense their own brand of justice. March knows Lowe could be the one to continue his Ten Commandments crusade (something he had tried to get the other killers at the Devil's Night Dinner to do), but John needs a push. That's when he brings in Gaga to steal his boy and push him over the edge.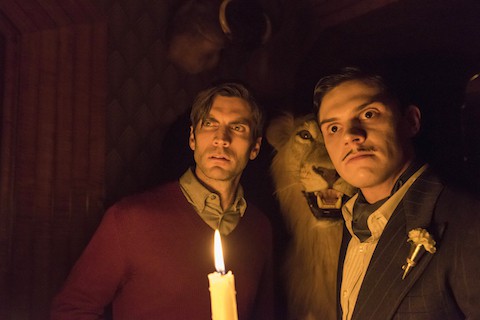 Lowe starts spending more time with March at the Cortez. They develop a twisted sort of kinship. Eventually, March reveals that he'd killed before, which spooks Lowe at first, but on what would have been Holden's tenth birthday, he comes around to the idea. March shows him some pictures of a boy about Holden's age getting exploited (and probably worse) at the hotel. They belonged to that Oscars blogger, which sends Lowe off to get some justice.
Killing that blogger deeply troubled Lowe, so he tries to hang himself inside the hotel, only to be "saved" by Sally. The two strike up a (bad) romance, further developing John's secret other life.
(We also get some kind of indication that March is keeping the drill-bit brandishing Addiction Demon away in exchange for Sally's help, but we'll likely get more on that at a later time.)
John begins to realize the killer he's becoming, and he's coming around to March's idea about turning pain into making the world "a cleaner place." That's when March delivers his pitch about finishing March's masterpiece: The Ten Commandments killings.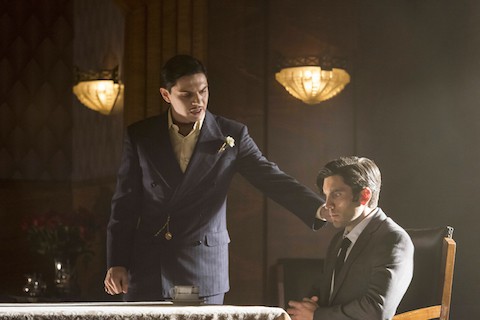 So, Lowe has been committing these murders all long, much to the disbelief of his partner, Hahn. Back in the present moment, Hahn can't believe John has become a murderer, but, joke's on him, because then John shanks him there in the morgue. His crime? Coveting John's wife.
John brings a trophy from Hahn back to the Cortez, encountering a chipper Iris (Kathy Bates). She is relieved that Lowe realizes who he really is now, and she doesn't have to pretend not to know him anymore. He remembers it all now. (She also tells him that Wren's death isn't on him. Sally sent her out to keep an eye on him.)
With the Hahn trophy added to the case, there are only two more murders to complete before the Ten Commandments killings are complete.
Next week, the spotlight appears to be on Ramona (Angela Bassett) and her plot to take revenge on Lady Gaga. Something tells me Mother Monster can't be stopped that easily.
What did you think of last night's episode?